Hawkeye 600 coming to Hamilton County Speedway June 25-26
December 21, 2020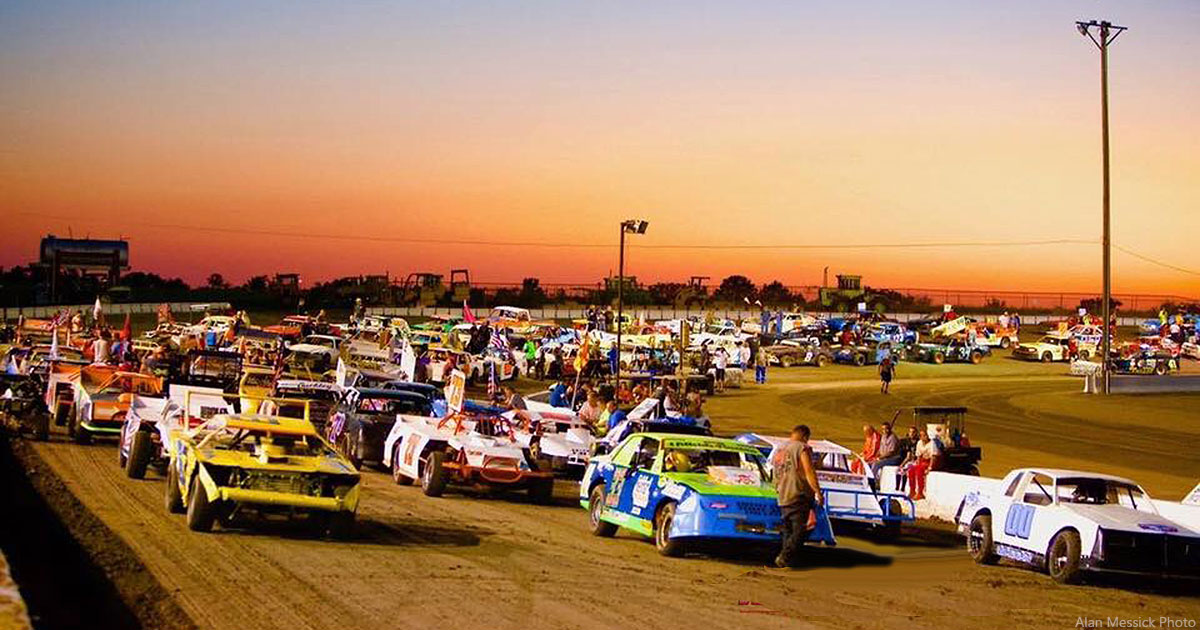 One of the biggest events at the Hamilton County Speedway in 2021—and possibly ever—takes place Friday and Saturday, June 25-26, when the historic half-mile dirt oval in Websiter City, Iowa, hosts the inaugural Hawkeye 600.
This incredible two-day event will feature as many as 200 drivers on the track at the same time with a 300-lap enduro-style race each night with standing starts and restarts. Cars will line up each night at 5:45 p.m. sharp.
There are no cautions. The race stops only for cars blocking most of the track, fires, flips, safety concerns or major accidents. In those cases, the red flag will be displayed. Pitting is allowed and so are driver changes.
With some serious dough up for grabs, event organizers expect everything from young to old, male and female, inexperienced and seasoned veterans adding their names to the list of hopefuls with dreams of blowing up their bank accounts.
The winner each night earns $10,000 while the overall best average finisher for the two nights gets $5,000. That's a chance for one skilled and extremely lucky racer to go home with a record $25,000—the most ever for any competitor in any class at the Hamilton County speedway.
Several drivers from all over the U.S. have already registered and officials anticipate a huge field. Help us in show these great competitors our Iowa hospitality and all that Webster City has to offer.
Nightly Payouts:
1st Place – $10,000
2nd Place – $2,500
3rd Place – $1,500
4th Place – $1,250
5th Place – $1,000
6th Place – $750
7th Place – $700
8th Place – $600
9th Place – $550
10th Place – $500
11th-15th Place – $250
16th-20th Place – $200
21st-25th Place – $200 if 120+ entries
Line up for Friday will be by draw within each group and entry fees are as listed:
• Group A – Entry Fee $150 until December 31, 2020
• Group B – Entry Fee $150 from January 1 – February 28
• Group C – Entry Fee $175 from March 1 – April 30
• Group D – Entry Fee $200 from May 1 – May 31
• Group E – Entry Fee $250 after May 31, 2021
Competitors and those contemplating taking part in this once-in-a-lifetime extravaganza can get all the information they need on the Hamilton County speedway or Hawkeye 600 websites:
• Download Hawkeye 600 Driver Info
• Download Hawkeye 600 Rules
• Register for the Hawkeye 600
Interested in showcasing your business before and during this event? Contact Sarah today by calling (515) 832-6000 or email hamiltoncountyspeedway@gmail.com.
Get social with the Hawkeye 600 on Facebook, Instagram and Twitter. Visit our website at Hawkeye600.com.
Car must be checked in and number drawn by 4:00 p.m. Friday. Those that do not draw will start at tail of field. For questions or additional information call Todd at (515) 297-3870 or Brad at (713) 894-3748.
The Hamilton County Speedway is located off US 20 at exit 140, then 1.2 miles north, then 0.5 mile east on Bank St., then 0.4 mile south on Bluff St. to the Hamilton County Fairgrounds in Webster City, Iowa. The physical address is 1200 Bluff St, Webster City, IA 50595.
Opening in July 1910, the Hamilton County Speedway is the oldest speedway in the state of Iowa. In 1938, work began on the current location at the Hamilton County Fairgrounds and was completed in the spring of 1939 with the first races held in September of that year.
The AmericInn by Wyndham is the Official Host Hotel of the Hamilton County Speedway. Located just off the exit from Highway 20 at 411 Closz Drive, check them out online or call (515) 337-2611 to book your stay.
For more information, call (515) 832-6000 or check out hamiltoncospeedway.com. You can also get social on Facebook and Twitter.
= = = = = = = = = = = = = = =
HAMILTON COUNTY SPEEDWAY MARKETING PARTNERS: American Family Insurance, American Racer Racing Tires, Availa Bank, Casey's, D&B Agro-Systems, DCD Concrete Coatings, Diamond in the Rough, Dinsdale Motors, Farm Credit Services of America, Foster Funeral & Cremation, Gilbert Flooring & Paint, Gilbert Jewelers, Good Life RV, Humes Distributing, Hy-Vee, Integrity Trucking, Jerry Goebel State Farm Agent, Jones Rock & Dirt, K.C. Nielsen Ltd., KS Engineering, Lampert Lumber, Malvern Bank, McDonald's, Murphy Carpentry, MyRacePass, NAPA Auto Parts, Nitroquest Media, People's Credit Union, Pepsi Beverages, Pizza Hut, POET Biorefining of Jewell, RacerWebsite.com, RacinDirt.com, Seneca Foundry, Spangler Automotive, Stein Heating & Cooling, Tex Trail Trailer Parts, Tolle Automotive, Summit Racing Equipment, WCF Financial Bank, Windsor Manor Assisted Living, YouDirt.com.