Fall Futurity this weekend at Hamilton County Speedway
October 17, 2022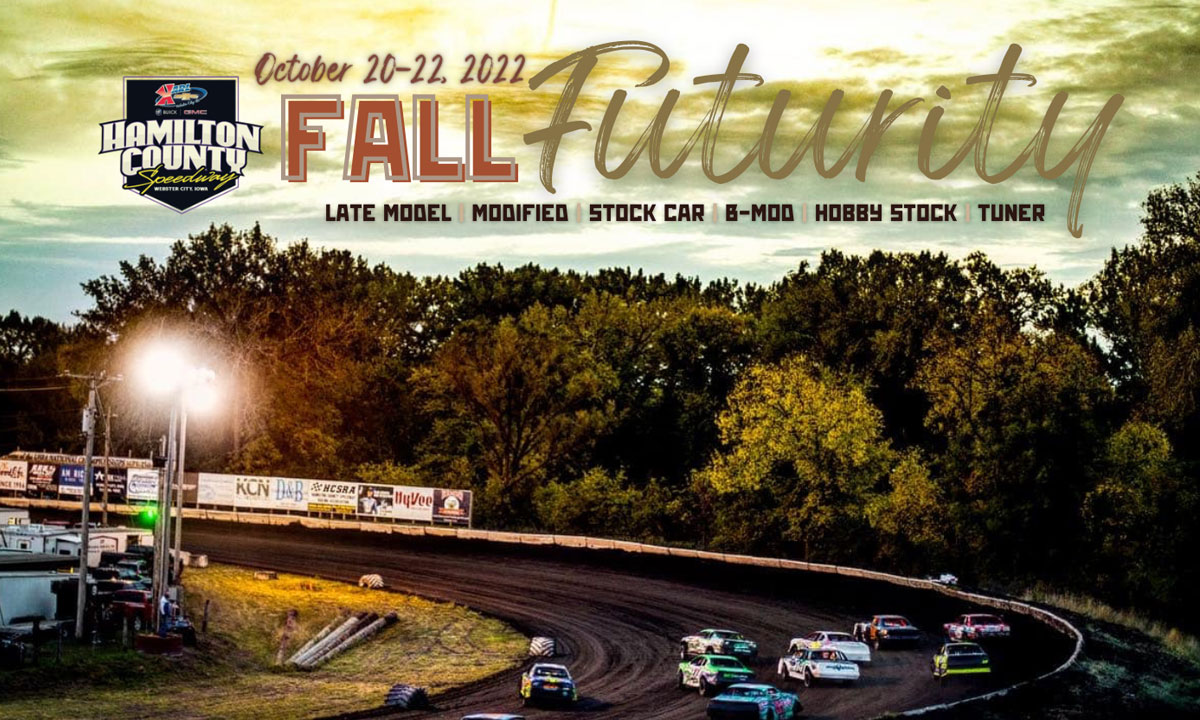 The 2022 season at the Karl Chevrolet Hamilton County Speedway is quickly coming to an end. However, one final event remains on the schedule: the fan-favorite Fall Futurity will take place Oct. 20-22.
Six divisions will compete during the 21st annual event, including the Jerry Goebel State Farm Super Late Models, Olsen Family USRA Modifieds, Seneca Foundry USRA Stock Cars, Stein Heating & Cooling USRA B-Mods, Diamond in the Rough USRA Hobby Stocks and A1 Automotive USRA Tuners.
The event will kick off with a driver practice on Thursday, Oct. 20. The pit gate will open at 4 p.m. with practice from 5:30-8 p.m. Pit pass admission will be $25. The grandstand gate will be open to the public with free access to attend practice (no concessions).
On Friday, Oct. 21, the Super Late Models will compete for $ 2,000 to win and $200 to start. Friday's late model portion will make up the Bill Rice Memorial portion from the rained-out Aug. 27 show. Super Late Model drivers will also compete on Saturday, Oct. 22, for $1,000 to win and $150 to start.
Modifieds will compete for $700 to win Friday and $1,000 to win Saturday. Stock Cars and B-Mods will compete for $500 to win Friday and $800 to win Saturday. Hobby Stocks compete for $400 to win Friday and $500 to win Saturday. Tuners will compete for $150 to win Friday and $200 to win Saturday.
There are no entry fees for any class to compete in this event. In addition, HCS Officials have decided to cover all USRA temp licenses non-licensed drivers.
Drivers will need to purchase a $35 pit pass each night and will need to rent a transponder if they do not own one ($15/day or $30 for the weekend).
TIMES

Friday, Oct. 21
Pit gate opens 4 p.m.
Grandstand gate opens 5 p.m.
Pill draw closes 6 p.m.
Driver's meeting 6:15 p.m.
Racing 6:30 p.m.
Saturday, Oct. 22
Pit gate opens 3:30 p.m.
Grandstands open 4:30 p.m.
Pill draw closes 5:30 p.m.
Driver's meeting 5:45 p.m.
Racing 6 p.m.
Times are subject to change.
TICKETS

Adults $15
Military/Seniors $12
Kids 17 & Under FREE
Pit Pass $35
Youth Pit Pass $20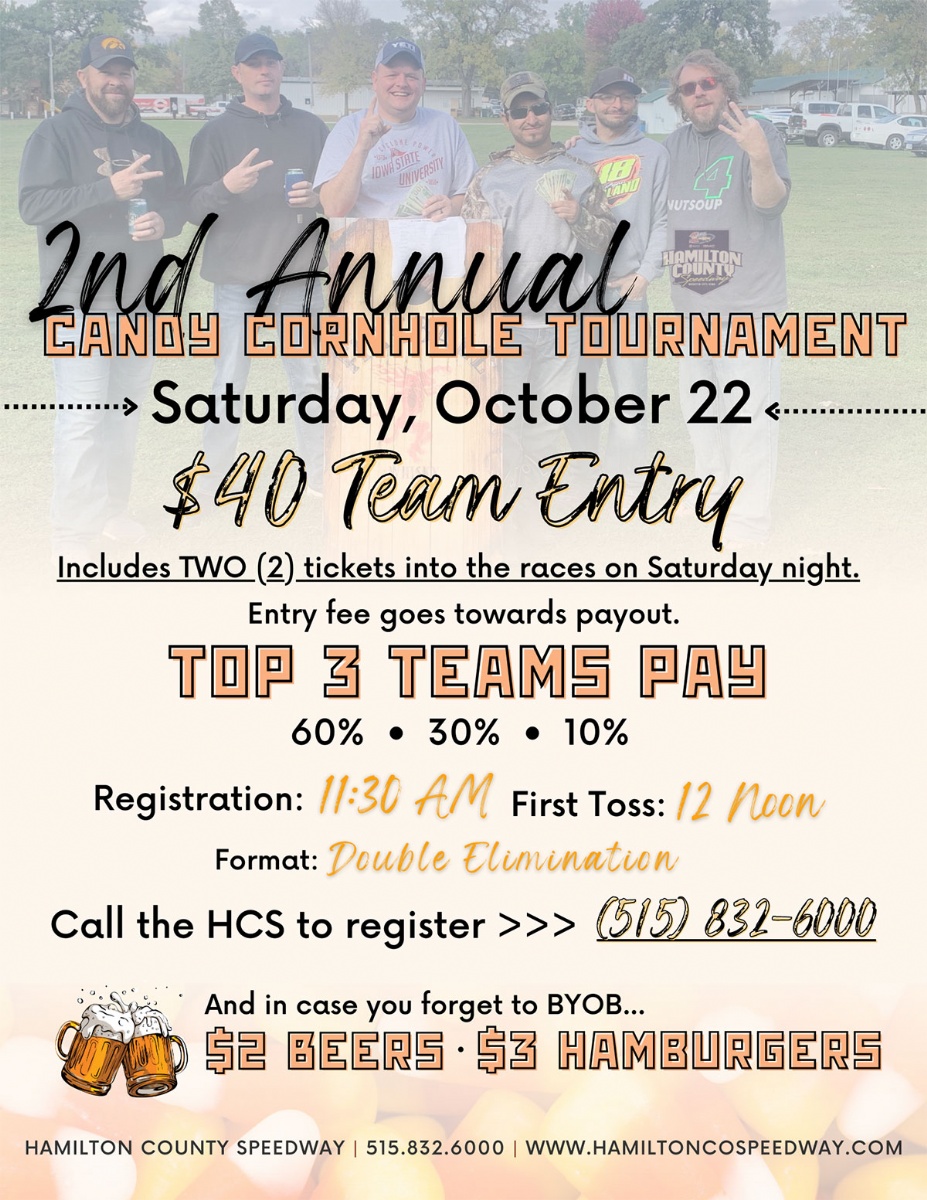 Fall Fun Never Hurt Anyone
Our 2nd Annual Candy Cornhole Tournament will take place on Saturday. Check-in and seed draw will be at 11:30 a.m., with first toss at 12 noon. Cost for a team entry is $40 and will include two (2) tickets into the grandstands for Saturday night's races. We will play a double elimination format.
We need a minimum of ten (10) teams registered for the event to take place. You can register by the calling the HCS office at (515) 832-6000. All entry fee monies collected will go towards the payout. the top 3 teams will pay 60%, 30% and 10%.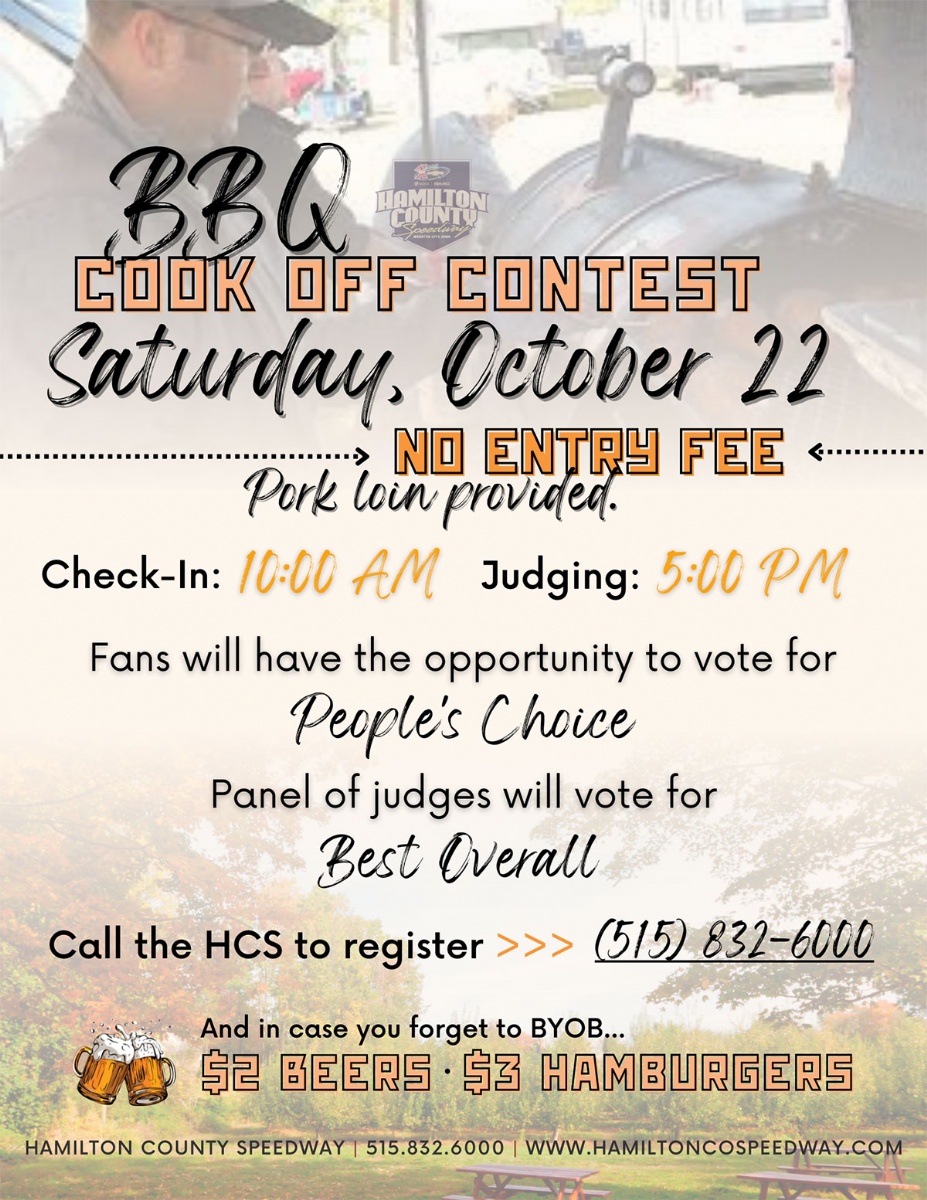 What's Cooking Good Looking
A good time. That's what's cooking. Back again this season is the BBQ Cook-Off, courtesy of our good friends at Hy-Vee. There is no fee to participate in this event. Check-in will take place at 10 a.m. near the ticket booth. You will receive one (1) pork loin when checking in. You will be allowed to bring other meat in to smoke.
We will begin judging at 5 p.m. Awards up for grabs will be the People's Choice Award and Best Overall. We do ask that you please message us or give us a call to let us know that you plan on attending.
Email hamiltoncountyspeedway@gmail.com to get signed up.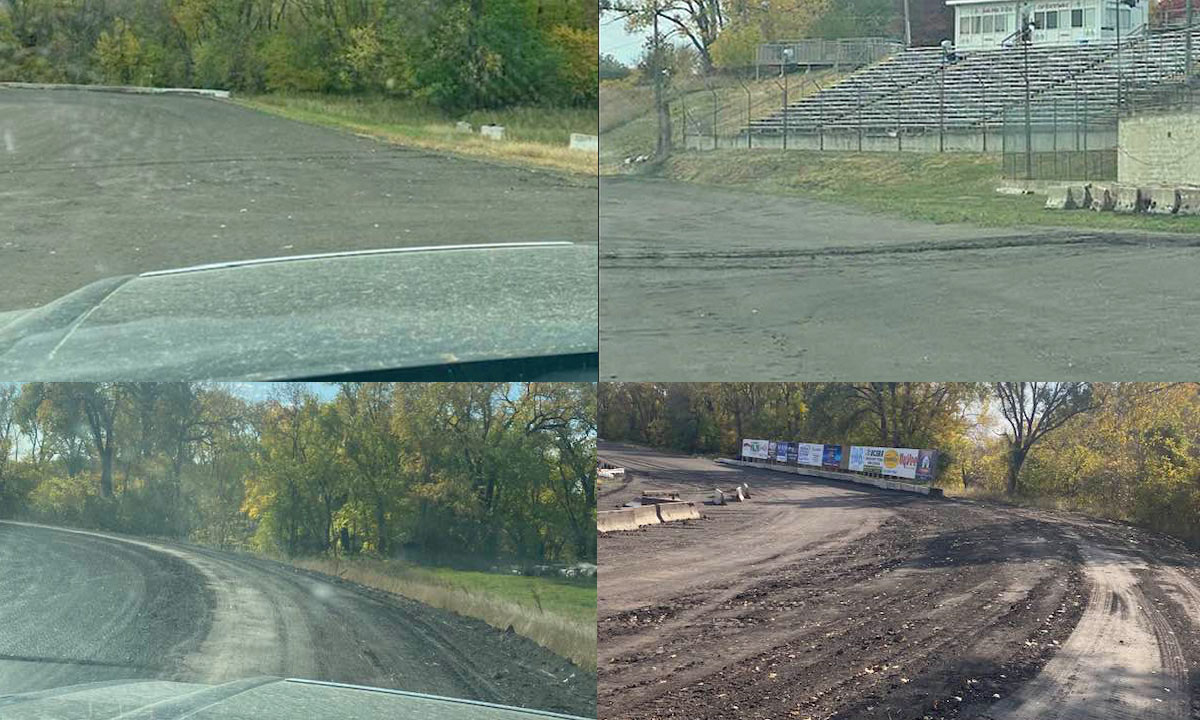 Improvements to the HCS Racing Surface
In 2021, during track prep for the Inaugural Spring Showdown Demolition Derby, we started taking wall sections to build the derby arena. The track looked so nice without the wall and a lot less dangerous that we decided not to replace it. And so began removal of the wall.
During the 2022 Hamilton County Fair we decided to move the front-stretch wall for the figure-8 and UTV/ATV races. Once again, given the tremendous job by Mark and Andy, we decided it looked very nice and made the spectator viewing even better, that we made the decision to not put the wall back. It definitely made the racing better as drivers did not get pinched into the wall.
We have heard that we have done a great job at getting the track banking very even and nice. But during this past season the top in turns 1-2 seemed to be dominant. Accompanied with the wall in those turns, the dirt always seemed to make a big cushion, making it the fastest way around the track.
This change will definitely change the racing, and some drivers may fear going up to the high side of the track.
The job is not completely done, yet. We will have wall sections coming off the wall by the signs, heading to the west to keep cars from the river. We feel this will bring two- and three-wide racing back to the Hamilton County Speedway.
In addition to the top of the track, we will have a ten-foot flat area run-off for cars that go off the top of the track. No more jumping the wall. Once again removing the wall makes it look so much nicer in that area.
Opening in July 1910, the Karl Chevrolet Hamilton County Speedway is the oldest speedway in the state of Iowa. In 1938, work began on the current location at the Hamilton County Fairgrounds. The semi-banked half-mile dirt track was completed in the spring of 1939, and the first races were held on the track in September of that year.
The Karl Chevrolet Hamilton County Speedway is located off US 20 at exit 140, then 1.2 miles north, then 0.5 mile east on Bank St., then 0.4 mile south on Bluff St. to the Hamilton County Fairgrounds in Webster City, Iowa. The physical address is 1200 Bluff St, Webster City, IA 50595.
For more information, call (515) 832-6000 or check out HamiltonCoSpeedway.com. You can also get social on Facebook, Instagram, Twitter and YouTube.
HAMILTON COUNTY SPEEDWAY MARKETING PARTNERS: Karl Chevrolet Buick GMC, Kwik Star, A1 Automotive, American Racer, Arends Ag Service, Availa Bank, Burke Plain Plumbing, CAM Motorsports, Christie Door Company, City of Webster City, CPD Racing Shocks, D & B Agro-Systems, DCD Concrete Coatings, Diamond in the Rough, Farm Credit Services of America, Fertilizer Equipment Specialists, Foster Funeral & Cremation, Gerber Auto Care, Gilbert Jewelers, Good Life RV, Humes Distributing, Hy-Vee, Jerry Goebel State Farm Agent, Jones Rock & Dirt, K.C. Nielsen Ltd., Lampert Lumber, Malvern Bank, McDonald's, Murphy Carpentry, MyRacePass, NAPA Auto Parts, Nitroquest Media, The Olsen Family, P & P Electric, PBM-World-Erson, Peoples Credit Union, Pepsi Beverages, POET Biorefining – Jewell, RacerWebsite.com, RacinDirt, Seneca Foundry, Shawn's Hay Grinding, Stein Heating & Cooling, Summit Racing Equipment, Tex Trail Trailer Parts, Tolle Automotive, The Trashman, Allen Uhrhammer Farms, CF Financial Bank, Webster City Custom Meats, Webster City True Value, Windsor Manor Assisted Living.