Chisholm brothers taking over the USRA Mod world
July 20, 2022 | by Zakary Kriener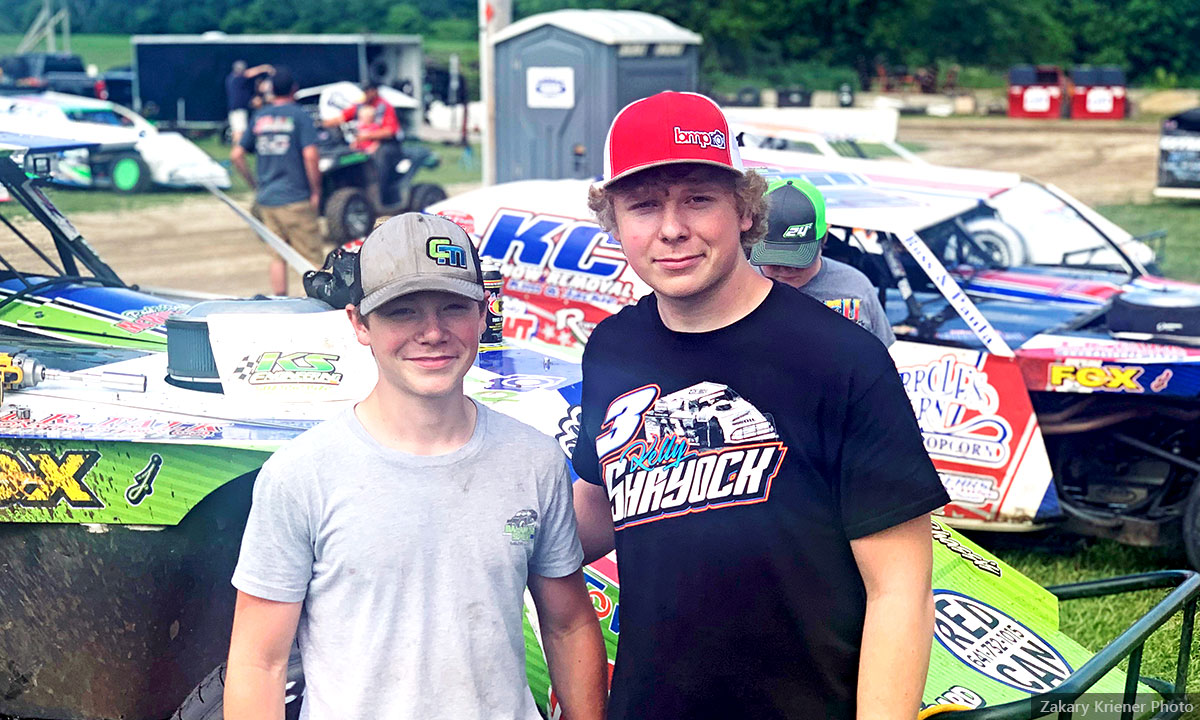 Joe Chisholm (left) and older Brother Jim Chisholm have been two of the most successful racers in the last few seasons of Summit USRA Weekly Racing Series competition.
Family. It's one of the biggest staples for thousands of race teams around the country. For many, the term refers to family history—often multiple generations of racers and teams have built the current generation of competitors.
For one Northeast Iowa racing team, the bond shared at the track is very similar to those with many years of racing history within their bloodlines, but this family's racing roots are just recently planted.
"Jim and Joe are first-generation racers," said Monte Chisholm who, along with his wife, Lezlie, are the parents of 19-year-old Jim Chisholm and 16-year-old Joe Chisholm. "Up until about ten years ago, our family had only been to the races a handful of times. They have six older sisters. I have a feeling that if the boys were born before them, this place would be used much more for the farming operation. Instead, it's been taken over as the race shop headquarters."
That farm shop-turned-race shop that sits next to the family's rural Osage, Iowa, farm is the spot where two of the hottest young USRA racers base their racing operation, and the two young guns have quickly risen to the top of the ranks in one of the most competitive classes in the country.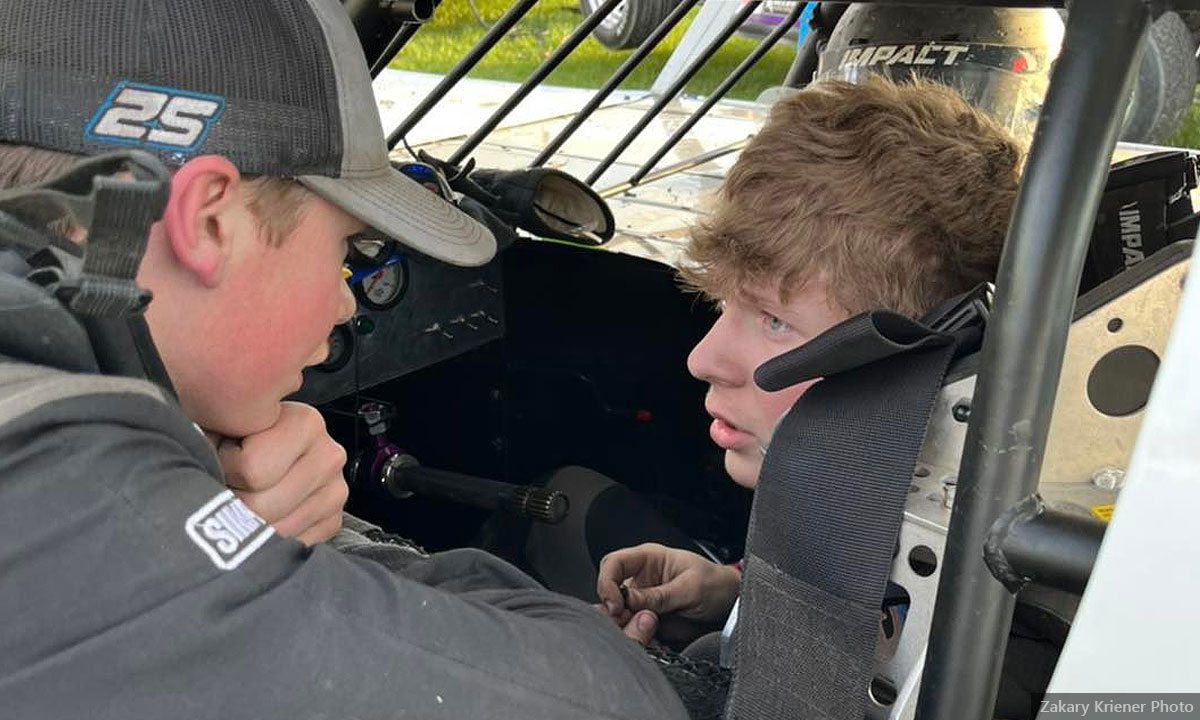 Jim, who has 54 career USRA B-Mod wins to his name, has won the last two Summit USRA Weekly Racing Series National Championships. This year, he made the leap to the USRA Modified class where he has quickly caught on against some of the top competition in the country.
He picked up his career-first feature win—about 30 minutes away from the family farm at Mason City Motor Speedway in Mason City, Iowa—on Tuesday, July 12, against a field of the nation's best USMTS Modifieds.
Younger brother Joe has consistently improved throughout his four years in a USRA B-Mod and currently sits 17th in the Summit USRA Weekly Racing Series national points.
"We hit six different tracks last year, but raced three of them regularly," said Jim. "Last year, I finished first at Deer Creek Speedway (Spring Valley, Minn.) and Mississippi Thunder Speedway (Fountain City, Wis.) and was second at Mason City Motor Speedway. Joe finished second at Deer Creek, fifth at Mississippi Thunder and sixth at Mason City. It was a pretty good year for us."
The family's dive into the world of dirt track racing took place back in 2008 when Jim was only five years old.
"We were at a race at Deer Creek and they were just getting started with the Slingshot class. They had an opportunity to win a chance to race one of the cars," explained Monte. "Jim's uncle, Mark, won the raffle but Jim wasn't old enough to race yet. Mark wanted to get him involved, so he bought a car for Jim to race the next season."
The decision to get the young wheelman in a car was a good one as Jim won 52 feature races over the next several years. In 2016, Joe was finally old enough to race in the class and made his racing debut while Jim made the leap to a USRA B-Mod.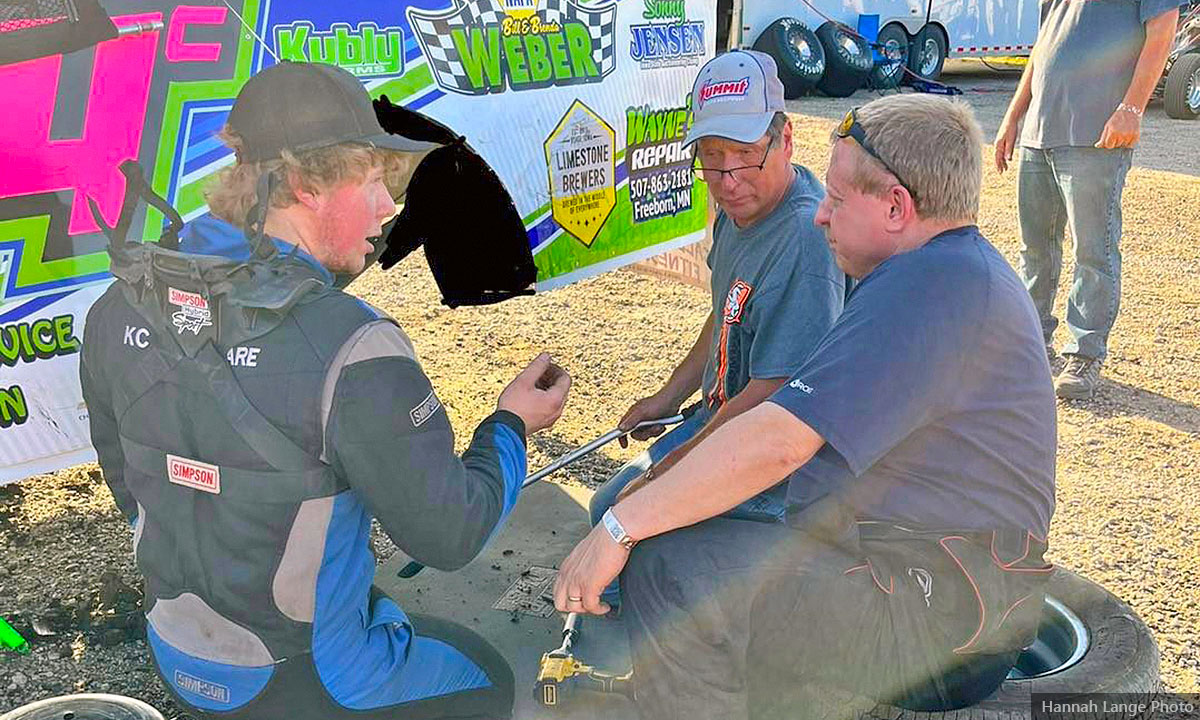 Jim Chisholm and father Monte Chishom discuss the under-side of their USRA machine with legendary racer and chassis builder Kelly Shryock.
"We never really preached the wins," explained Monte. "Our early goals were to just finish the race and try to learn."
While Jim did get a win in his first year in a USRA B-Mod, it certainly did not come easy.
"The success definitely didn't come right away. No one starts out on top," explained the driver of the No. 24C Skyrocket Chassis powered by Kevin Stoa Engineering. "I've always been big on goals... Without goals, you'll never achieve anything. As I achieved one goal, I'd set another."
Joe also shares the same mindset as he has continued to make significant strides throughout his three-year USRA B-Mod career.
After finishing just outside the top 100 in his first season in 2019, he finished 56th in 2020 and 23rd in 2021. Last season also marked the year of his first USRA B-Mod win, which came in July at Mason City.
"It's a huge asset to have an older brother like Jim. I think we work together really well as a team and he has taught me a lot about racing and how to get better," added Joe. "Overall, being able to spend time with family and be around our racing family is what makes it so much fun."
The family agreed with Joe about enjoying the atmosphere at the race track every weekend.
"The racing community is unlike anything else. You can go to almost anyone and ask for help. We're all out there competing against each other after the green flag drops, but anyone would do anything to help out another back in the pits," continued Joe.
As for when Jim and Joe are on the track together, it's always a friendly competition between the two.
"They work well out there on the track and usually race each other pretty clean," laughed Monte. "At the end of the night, they both have to come back to the same trailer and the next morning, they have to come to the same breakfast table."
The two young men agreed with Dad's statement, admitting that they put too much time and effort into their cars each week to lean on one another out on the track.
"On an average week, we spend probably 20 hours in the shop getting ready for a three-night race weekend," elaborated Joe. "We do pretty much all of the work and set up our own cars. Mom and Dad are always around to lend a helping hand though."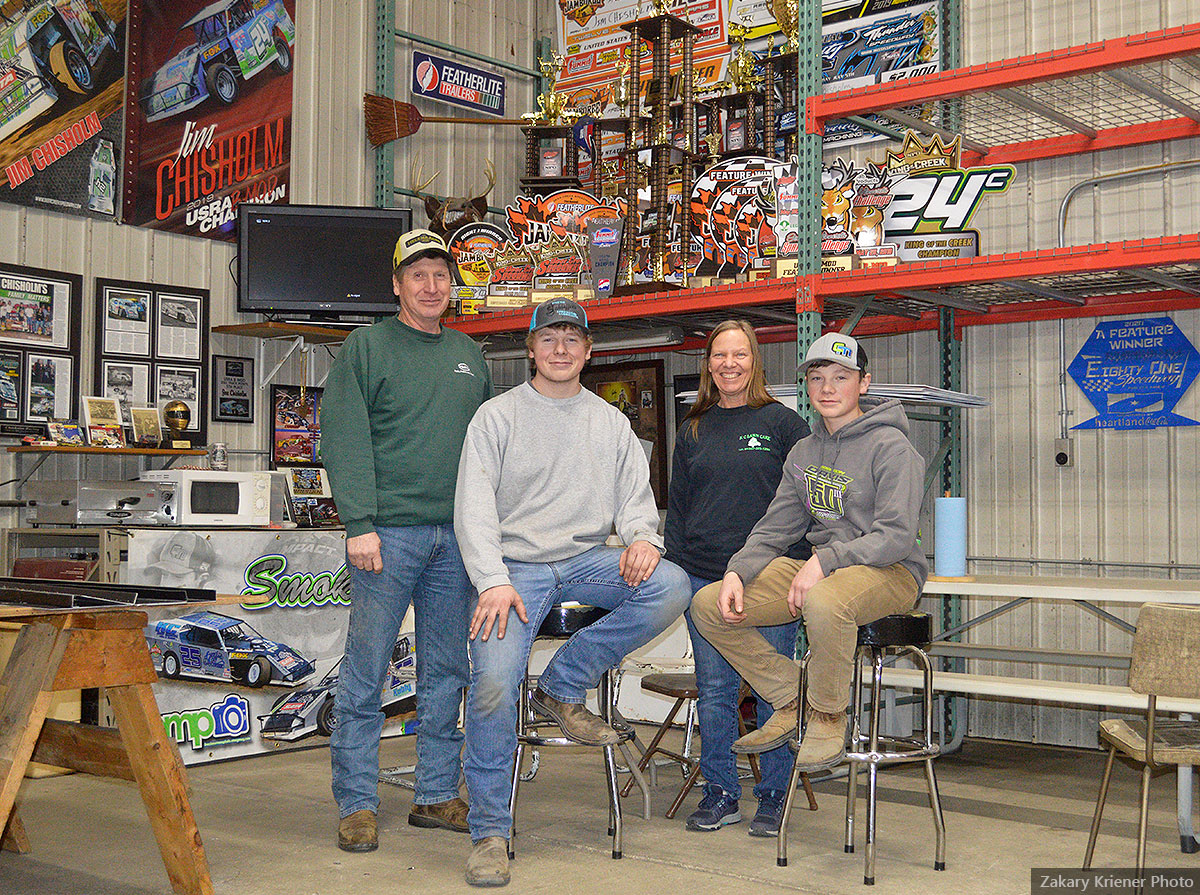 From left to right: Monte Chisholm, Jim Chisholm, Lezlie Chisholm and Joe Chisholm.
From Monte and Lezlie's view, being able to see the youngest of their eight children doing what they love is something they take great pride in.
"We're always a little bit nervous when they're out there, but not necessarily how you may think," said Lezlie. "We make sure that they have the best of the best when it comes to safety. That's a belief we have always had. I'd say that the nervousness that we get when we're watching from the pits is more of an excited nervousness. It's a feeling we wouldn't trade for anything."
Monte and Lezlie are not only proud of what their boys have accomplished on the track over their young racing careers, but they are also proud of the message that they hope to share with others.
"Just because you don't come from a racing family with multiple generations of racers doesn't mean that you can't do this," said Monte. "I think these boys are living proof of that. I hope that they can serve as inspiration to the young fans sitting in the stands every night at the races. We are always trying to grow the sport and get more people involved and would encourage anyone to stop by and talk with us in the pits after the races. Racing is a sport for anyone, no matter your background or history."
So far this year through July 6, Jim has recorded 11 top-five finishes in the USRA Modified class while racing against some of the toughest competitors in the country at the Deer Creek Speedway, Mississippi Thunder Speedway and Mason City Motor Speedway. Racing at the same three tracks, Joe has impressed by winning five features and recording 12 top-fives.
"Running regularly at three different tracks makes for busy summers, but we're doing what we love and the best part about it is that we get to do it as a family," closed Jim. "Mom and Dad are with us every night and the rest of our family members are no strangers to helping out around the pits as well. It's pretty great to know that we have that support and that we can all share this same passion."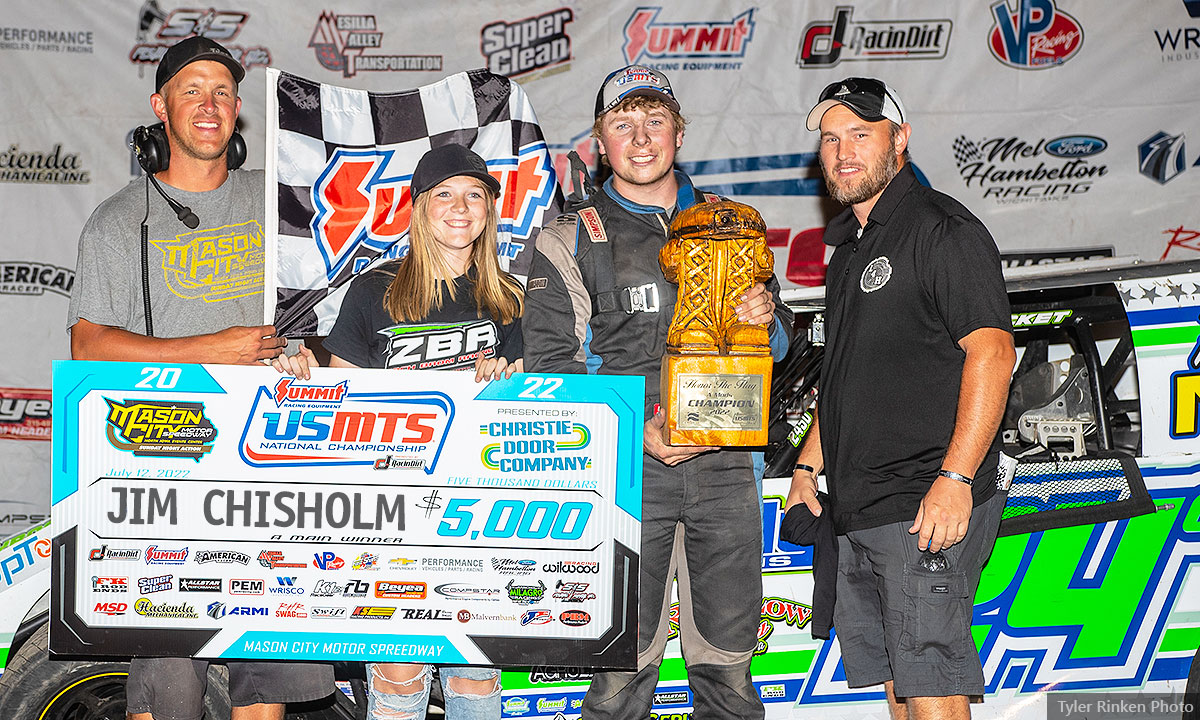 Jim Chisholm won the main event during the 3rd Annual Mod Mania for the Summit USMTS Modifieds at the Mason City Motor Speedway in Mason City, Iowa, on Tuesday, July 12, 2022.
Visit usraracing.com for schedules, points, photos, souvenirs, videos and more. Follow our social media channels on Facebook, Instagram, Twitter and YouTube. Click here to get USRA news delivered to your inbox.
USRA OFFICIAL SPONSORS: American Racer Racing Tires, Beyea Headers, Chevrolet Performance, Christie Door Company, Fast Shafts, FK Rod Ends, K1 RaceGear by Ryan Bowers, KS Engineering, KSE Racing Products, Mesilla Valley Transportation, MSD, Nitroquest Media, PEM Racing Gears & Drivetrain, RacinDirt, Summit Racing Equipment, Sunoco Race Fuels.
USRA PARTICIPATING SPONSORS: ARMI Contractors, Boubin Tire & Automotive, Brodix Cylinder Heads, DAY Motorsports, Innovative AutoGlass & Window Tint, PBM Performance Products, Star 1 Roofing & Construction, Stealth Oilwell Services, Texas Locomotive Solutions, TNT Auto Parts, YouDirt.com.
USRA CONTINGENCY SPONSORS: AFCO Racing Products, Allstar Performance, Bryke Racing, BSB Manufacturing, Champ Pans, Edelbrock, Hooker Harness, Integra Racing Shocks & Springs, JE Pistons, Keyser Manufacturing, Landrum Performance Springs, Medieval Chassis, Performance Bodies & Parts, QA1, RacerWebsite.com, Real Racing Wheels, Swift Springs, Sybesma Graphics, Wehrs Machine & Racing Products, Wilwood Disc Brakes Five1seven Designs, Four Seven Designs Salon & Boutique, Hi-Tek Paving, Jerovetz Motorsports Racing Parts, Penske Racing Shocks, Race Smart Wraps, S&S Fishing & Rental, Traeger Wood Pellet Grills by Elliott Motorsports.
USRA RACETRACKS: 67 Speedway of Texarkana, 81 Speedway, Alien Motor Speedway, Ark-La-Tex Speedway, Big O Speedway, Bolivar Speedway, Callaway Raceway, Caney Valley Speedway, Cedar Lake Speedway, Centerville Super Speedway, Chateau Speedway, Crawford County Speedway, Creek County Speedway, Cresco Speedway, Dallas County Speedway, Deer Creek Speedway, Diamond Park Speedway, Eagle Valley Speedway, Electric City Speedway, Elk City Motorsports Park, Fairmont Raceway, Fayette County Speedway, Gondik Law Speedway, Hamilton County Speedway, Humboldt Speedway, I-35 Speedway, I-90 Speedway, Lake Ozark Speedway, Lakeside Speedway, Lawton Speedway, Lucas Oil Speedway, Mason City Motor Speedway, Midway Speedway, Mississippi Thunder Speedway, Monett Motor Speedway, Pike County Speedway, Rapid Speedway, Rocket Raceway Park, Sports Park Raceway, Springfield Raceway, Super Bee Speedway, Superbowl Speedway, Texas Motor Speedway Dirt Track, Tomahawk Speedway, Tri-State Speedway, Tulsa Speedway, Vado Speedway Park, West Texas Raceway, Winneshiek Raceway.