Stealth Oilwell Services presents USRA Summer Shootout June 22-26
June 3, 2022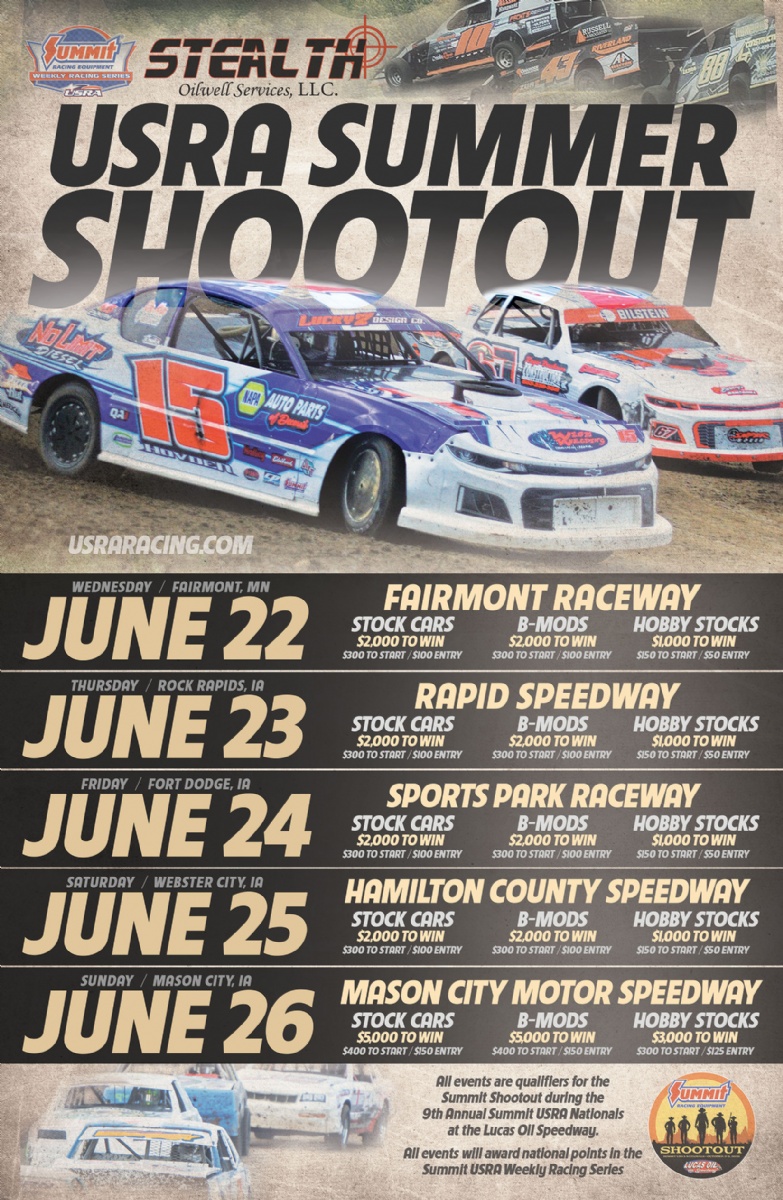 Mark your calendars for five straight nights of sack-up racing for a big sack of cash with the Medieval USRA Stock Cars, USRA B-Mods and USRA Hobby Stocks in the Stealth Oilwell Services USRA Summer Shootout.
It's five big nights and five unique dirt ovals up and down the I-90 corridor in Southern Minnesota and Northern Iowa.
Stock Car and B-Mod drivers can win as much as $13,000 and one Hobby Stock driver will take home at least $7,000 with a sweep of the high-powered pentathlon over about a 100-hour timespan.
Wednesday, June 22 – Fairmont Raceway in Fairmont, Minn.
Thursday, June 23 – Rapid Speedway in Rock Rapids, Iowa
Friday, June 24 – Sports Park Raceway in Fort Dodge, Iowa
Saturday, June 25 – Karl Chevrolet Hamilton County Speedway in Webster City, Iowa
Sunday, June 26 – Mason City Motor Speedway in Mason City, Iowa
Each of the first four nights, Stock Cars and B-Mods will be racing for $2,000 to win and $300 to start with Hobby Stocks chasing a $1,000 top prize and $150 to start.
Then on Sunday at the North Iowa Action Track, Stock Cars and B-Mods are competing for $5,000 to win and $400 to start while Hobby Stock racers will be seeking $3,000 to win and $300 to start.
If you're a Stock Car, B-Mod or Hobby Stock driver and doubt whether you can match the talent and skill of the superstars in the pit area, you're probably right. The best of the best will be drawn to this blockbuster like a moth to a flame.
Drivers in all three classes will earn national points in the Summit USRA Weekly Racing Series, and all five events will be Summit Shootout Qualifiers for all three classes. The Summit Shootout takes place Oct. 3-8 during the 9th Annual Summit USRA Nationals.
USRA rules will be used in all classes with one exception: B-Mods will be allowed a two-inch spoiler as Sports Mods are welcome to run with their rules.
Fairmont Raceway
fmtraceway.com • facebook • twitter
Rapid Speedway
rockrapidsspeedway.com • facebook • twitter
Sports Park Raceway
sportsparkraceway.com • facebook • twitter
Karl Chevrolet Hamilton County Speedway
hamiltoncospeedway.com • facebook • instagram • twitter
Mason City Motor Speedway
masoncitymotorspeedway.com • facebook • twitter • instagram
Visit usraracing.com for schedules, points, photos, souvenirs, videos and more. Follow our social media channels on Facebook, Instagram, Twitter and YouTube. Click here to get USRA news delivered to your inbox.