It's been a year we'll never forget...
August 13, 2020 | by Sarah Kalkwarf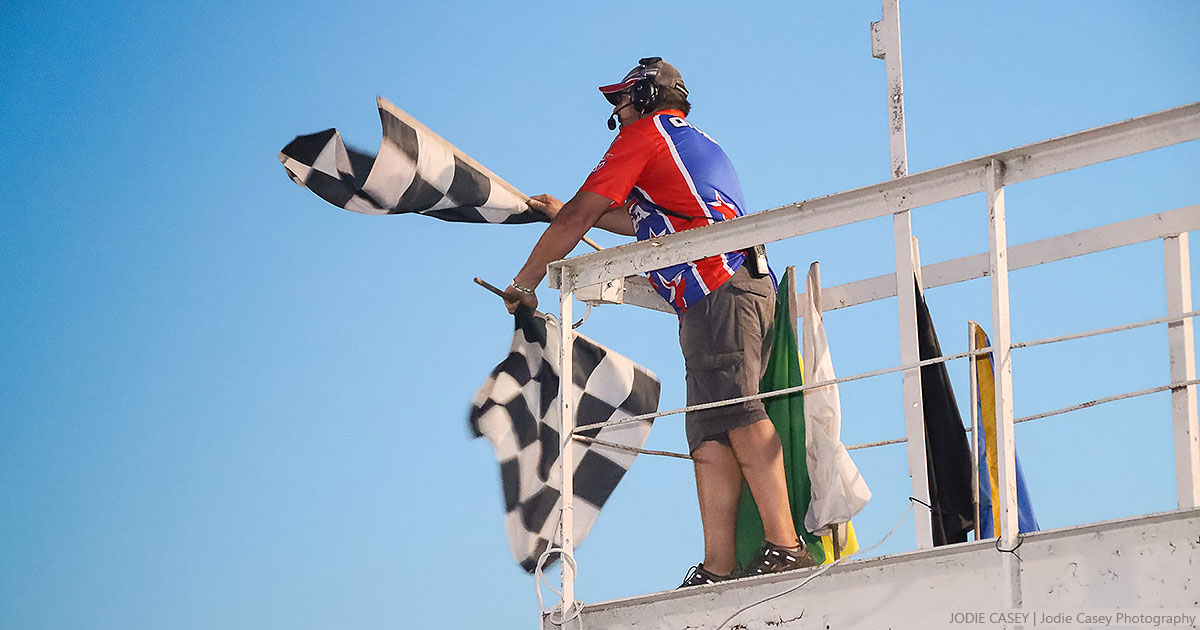 As the final checkered flag waved on our 2020 regular season at the Hamilton County Speedway and we kick off our post-season, we want to take a minute to thank everyone for their continued support and congratulate our 2020 track champions.
2020 started in a way we never anticipated. We would much rather have Mother Nature dictate how our season starts (and continues) rather than a global pandemic. Mother Nature watched quietly in the corner while COVID-19 did it's thing... and not a good thing, for many reasons.
We are very grateful that we were able to start our season and soon later add back our great fans into the stands. Many things changed throughout the season and through the hard work from our staff, we were able to accommodate.
None of what we do is possible without you, our staff—the best in the business. They work hard for us, they have fun with us and we have enjoyed getting to know them over the past three years. It takes a lot to put on each event and every one of our staff is instrumental in the process.
When we close out 2020, we will be saying "see you later" to Mark Ferguson who has spent 30 years dedicating his time to HCS. In the last three years we have grown a great appreciation for what he does. You will be greatly missed. Thank you, Mark!
Our fans.... We see a lot of faces throughout the season. They become more familiar each week. We've grown to know you and your families and we appreciate you choosing to spend your entertainment dollars with us.
Our sponsors... it's a small community but the outpouring of support we receive from our local businesses is amazing. We are thankful that you have chosen to work with us and be a partner with us in making Hamilton County Speedway great again.
Our competitors... your dedication to not only Hamilton County Speedway but also the sport doesn't go unrecognized. You are the backbone of what we do. Without you, this wouldn't be possible. We appreciate you showing up every week and having fun when you do it.
Congratulations to our 2020 track champions:
🏁 Jason Hahne - Super Late Models presented by Jerry Goebel State Farm Agent
🏁 J.D. Auringer - Olsen Family USRA Modifieds
🏁 Bill Crimmins - Seneca Foundry USRA Stock Cars
🏁 Ty Griffith - Stein Heating & Cooling USRA B-Mods
🏁 Scott Dobel - Diamond in the Rough USRA Hobby Stocks
🏁 Ryan Bryant - MyRacePass USRA Tuners
Like we always say, the racing community is the best. It's more than a community—it's a family. It's been a tough year for the racing family as we have suffered great losses this summer. We continue to think of everyone during this difficult season.
Through the good days and the bad, thank you for being by our side and supporting HCS during the 2020 regular season. Let's go have a great post-season at Hamilton County Speedway.
We can't think of a better way to kick it off than a two-day rodeo event. Join us this Friday and Saturday, August 14-15 for the inaugural Highway 20 Stampede. The following week, make plans for the Central Iowa Nationals featuring the Lucas Oil Pro Pulling League Truck & Tractor Pull.