Highway 20 Stampede brings rodeo excitement to Webster City
August 12, 2020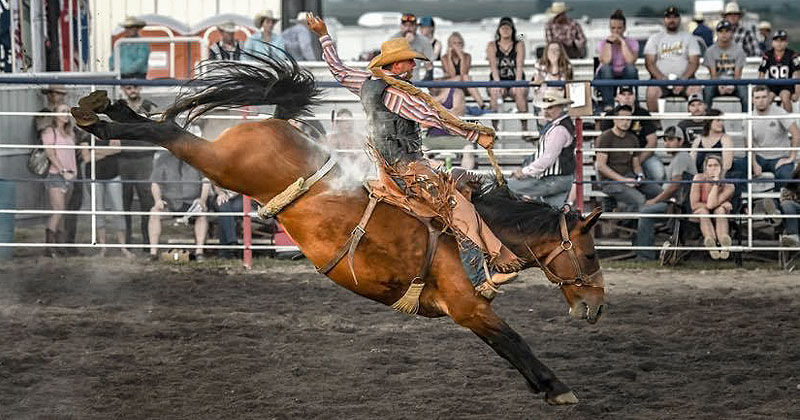 The historic Hamilton County Speedway in Webster City, Iowa, has transformed into a rodeo arena for this weekend's inaugural Highway 20 Stampede.
With a complete rodeo and entertainment show set for Friday, August 14, and Saturday, August 15, spectators will witness a one-of-a-kind event featuring bareback, saddle bronc, bull riding, steer wrestling, girls barrel racing, open calf roping, forty & over calf roping, breakaway calf roping, team roping header and team roping heeler.
Presented by Wright Rodeo Company, more than 250 riders are already registed for this blockbuster rodeo. What's more, Nashville recording artist John Riggins will be playing his unique brand of outlaw country music after the rodeo.
It's going to be a great weekend at the Hamilton County Speedway. Gates open at 5 p.m. and the Highway 20 Stampede kicks off at 7:30 each night. General admission tickets are $15 for those age 17 and older. Juniors ages 12 to 16, seniors 62 and older and members of the military are just $10. Youngsters ages 6 to 11 are $5 and kids 5 and under get in for free.
Camping is available throughout the Hamilton County Fairgrounds. Call Jamie at (515) 832-1443 for more information.
Competitors can call (641) 766-6401 to register for the event.
Opening in July 1910, the Hamilton County Speedway is the oldest speedway in the state of Iowa. In 1938, work began on the current location at the Hamilton County Fairgrounds. The semi-banked half-mile dirt track was completed in the spring of 1939, and the first races were held on the track in September of that year.
The Hamilton County Fairgrounds are located off US 20 at exit 140, then 1.2 miles north, then 0.5 mile east on Bank St., then 0.4 mile south on Bluff Street. The physical address is 1200 Bluff St, Webster City, IA 50595.
For more information, call (515) 832-6000 or check out hamiltoncospeedway.com. You can also get social on Facebook and Twitter.