Practice sessions begin May 1 at Hamilton County Speedway
April 27, 2020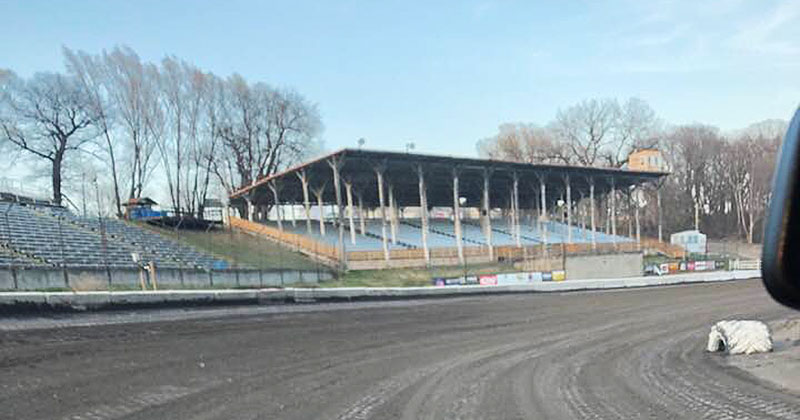 Officials from the Hamilton County Speedway driven by Spangler Automotive in Webster City, Iowa, announced today that they have been approved by government officials to host practice sessions at the racetrack with strict rules and guidelines in place.
Beginning Friday, May 1, each session will be two hours long and up to seven people—including drivers and/or crew members—will be permitted in the pit area during each session. All cars must be at least 50 feet apart to maintain social distancing guidelines.
Each session can have seven cars with just one driver for each car, one car with driver and six crew members or however you want to make up your team's session but only seven people will be in the pit area at any given time.
Drivers will go out on their own time and are responsible for anything that happens on the racetrack, but we ask that no more than three cars be on the track at one time and please keep a safe distance between cars to avoid any contact.
We will provide a radio for each crew chief to talk to his driver. Only one person may handle the radio. If more than one car is on the track, please wave your hand when exiting the track.
Teams must immediately load up and exit the facility at the conclusion of their session to allow the next group to come in.
Each two-hour session is $500 and the person that reserves the time slot will be responsible for making payment. That person—whether a driver or crew member—will be responsible for collecting any money from the other drivers and/or crew members that are present during their session.
During each session, the front gate of the fairgrounds will be closed. Nobody will be permitted to enter the main gate at the fairgrounds once the gate is closed. The grandstands will be closed and gate will remain closed. There will be no concessions available.
In addition to the above guidelines, if any of the seven people entering the facility have any signs or symptoms of the coronavirus (COVID-19), please stay home. Furthermore, after discussing with county officials we will also not allow anybody from Polk, Linn or Johnson Counties in Iowa to participate in any session.
Finally, every person in the session must bring his or her own pen and sign in at the pit shack.
Call and reserve your session today. The office number is (515) 832-6000 or you can also call or text Janet Staley at (515) 297-3872 or Todd Staley at (515) 297-3870. If nobody answers, leave a message and we will get back to you. We will also be checking messages on the Hamilton County Speedway Facebook inbox.
The following sessions are available (unless a name is next to the time):
Friday, May 1
11:00-1:00 – RESERVED (Drury)
2:00-4:00 –
5:00-7:00 – RESERVED (Michehl)
Saturday, May 2
10:00-12:00 –
1:00-3:00 – RESERVED (Peed)
4:00-6:00 – RESERVED (Stanton)
6:30-Dark- RESERVED (Ades)
Sunday, May 3
11:00-1:00 – RESERVED (Ridge)
2:00-4:00 – RESERVED (Umbarger)
5:00-7:00 – RESERVED (Ridge)
Monday, May 4
2:00-4:00 –
5:00-7:00 –
Tuesday, May 5
2:00-4:00 –
5:00-7:00 –
Wednesday, May 6
2:00-4:00 –
5:00-7:00 –
Thursday, May 7
2:00-4:00 –
5:00-7:00 –
Friday, May 8
11:00-1:00 –
2:00-4:00 –
5:00-7:00 –
The Hamilton County Speedway driven by Spangler Automotive is located off US 20 at exit 140, then 1.2 miles north, then 0.5 mile east on Bank St., then 0.4 mile south on Bluff St. to the Hamilton County Fairgrounds in Webster City, Iowa. The physical address is 1200 Bluff St, Webster City, IA 50595.
For more information, call (515) 832-6000 or check out HamiltonCoSpeedway.com. You can also get social on Facebook and Twitter.
Opening in July 1910, the Hamilton County Speedway is the oldest speedway in the state of Iowa. In 1938, work began on the current location at the Hamilton County Fairgrounds. The semi-banked half-mile dirt track was completed in the spring of 1939, and the first races were held on the track in September of that year.
To learn more about the United States Racing Association, visit USRAracing.com. You can also like us on Facebook, visit us on Instagram, follow us on Twitter and watch us on YouTube. Keep up to speed with everything USRA and subscribe to the USRA e-Newsletter at USRAracing.com/subscribe.
= = = = = = = = = = = = = = =
HAMILTON COUNTY SPEEDWAY MARKETING PARTNERS: American Family Insurance, American Racer Racing Tires, Availa Bank, Casey's, D&B Agro-Systems, DCD Concrete Coatings, Diamond in the Rough, Dinsdale Motors, Farm Credit Services of America, Foster Funeral & Cremation, Gilbert Flooring & Paint, Gilbert Jewelers, Good Life RV, Humes Distributing, Hy-Vee, Jerry Goebel State Farm Agent, Jones Rock & Dirt, K.C. Nielsen Ltd., KS Engineering, Lampert Lumber, Malvern Bank, McDonald's, Murphy Carpentry, MyRacePass, NAPA Auto Parts, Nitroquest Media, People's Credit Union, Pepsi Beverages, Pizza Hut, POET Biorefining - Jewell, RacerWebsite.com, RacinDirt.com, Seneca Foundry, Spangler Automotive, Stein Heating & Cooling, Tex Trail Trailer Parts, Tolle Automotive, Summit Racing Equipment, WCF Financial Bank, Windsor Manor Assisted Living YouDirt.com.