Saturday's alright for racing at Hamilton County Speedway
October 11, 2018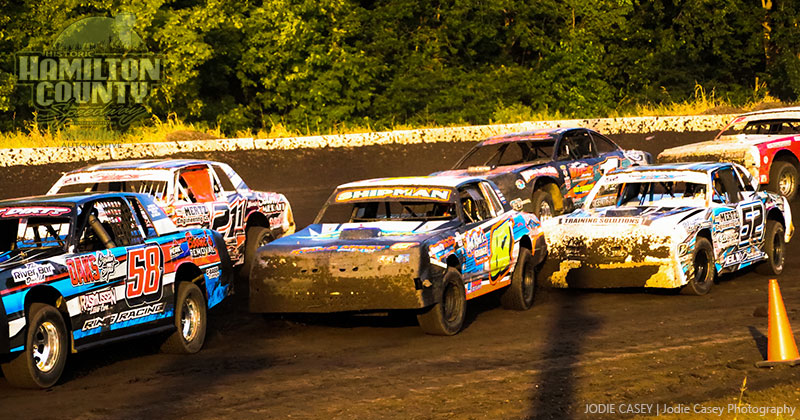 The silence will be broken this Saturday, Oct. 13, at the Hamilton County Speedway driven by Spangler Automotive.
Originally scheduled to host the legendary Fall Futurity this weekend, officials postponed the event until the final weekend of the month on Friday and Saturday, Oct. 26-27, with practice on Thursday, Oct. 25, weather permitting.
"We said we had just one race left this season," said promoter Todd Staley. "We lied."
With already rain-soaked grounds and a forecast for more rain and a rising Boone River, the Fall Futurity was moved back two weeks but favorable conditions are expected this Saturday so track crews are on the clock and getting the historic half-mile clay oval ready for Saturday afternoon.
"We did get on the track this afternoon and used the Lely on the track and will be sheepsfooting it tomorrow," Staley added. "We've had a magnificent surface all season long and expect nothing less this Saturday."
Quick reference: A Lely Roterra is a powered rake that stirs the top inch or so of the soil surface as it is pulled behind a tractor. A sheepsfoot roller is pulled behind a tractor and consists of a drum with raised pegs or pads on the surface to produce more tightly-packed substrate soil.
All of the track's weekly classes will be in action, including Malvern Bank Super Late Models, Olsen Family USRA Modifieds, Seneca Foundry USRA Stock Cars, Stein Heating & Cooling USRA B-Mods, Diamond in the Rough USRA Hobby Stocks and USRA Tuners.
The pit gate will open at 12:30 p.m. and the grandstands will open at 2 with hot laps at 3:30 and racing at 4 p.m.
Spectator tickets are $15 with youth ages 12-16 just $8 and kids 11 and under free. A family pass is $32 (a savings of $8). Pit passes will be $30.
Regular weekly class purses will be offered, However, with 15 or more entries in their respective divisions, Late Models and Modifieds will pay $1,000 to win, Stock Cars $700 to win, B-Mods $500 to win, Hobby Stocks $400 to win and Tuners $200 to win.
Download the full payouts by clicking here.
The Hamilton County Speedway driven by Spangler Automotive is located off of US 20 at exit 140, then 1.2 miles north, then 0.5 mile east on Bank St., then 0.4 mile south on Bluff St. to the Hamilton County Fairgrounds in Webster City, Iowa. The physical address is 1200 Bluff St, Webster City, IA 50595.
For more information, call (515) 832-6000 or check out www.HamiltonCoSpeedway.com. You can also get social on Facebook at www.facebook.com/RaceWebsterCity or Twitter at www.twitter.com/HamiltonCoSpeed (@HamiltonCoSpeed).
Opening in July 1910, the Hamilton County Speedway is the oldest speedway in the state of Iowa. In 1938, work began on the current location at the Hamilton County Fairgrounds. The semi-banked half-mile dirt track was completed in the spring of 1939, and the first races were held on the track in September of that year.
To learn more about the USRA, visit usraracing.com or call (515) 832-6000. You can also like USRA Racing on Facebook at facebook.com/usraracing, follow twitter.com/usraracing on Twitter and check out the USRA YouTube channel at youtube.com/usratv. Keep up to speed with everything USRA by joining our email list at usraracing.com/subscribe.
= = = = = = = = = = = = = = =
HAMILTON COUNTY SPEEDWAY MARKETING PARTNERS: American Family Insurance, Casey's General Store, D&B Agro-Systems, Daily Freeman-Journal, DCD Concrete Coating, Diamond in the Rough, Dinsdale Auto, Doolittle Oil, Farm Credit Services of America, First State Bank, Flower Cart, Foam Catz, Foster Funeral Home, Gilbert Flooring & Paint, Gilbert Jewelers, Good Life RV, Hamilton County Speedway Racing Association (HCSRA), Humes Distributing, Hy-Vee, Integrity Trucking, Iowa's Favorite Country K97, K.C. Nielson, KQWC Flight Q95, Lambert Lumber, Malvern Bank, Murphy Carpentry, NAPA Auto Parts, Olsen Family, Pepsi Beverages Co., Pizza Hut, Pruismann Painting, Ruba Lawn Care, Seneca Foundry, Spangler Automotive, Stein Heating & Cooling, Tolle Automotive , Tony's Tire, Town & Country Insurance, The Trash Man, Van Diest Medical Center, Wide Open Race Engines and Windsor Manor Assisted Living.