Shuffle up and race: "The Gambler" is this Saturday at Hamilton County Speedway
July 12, 2018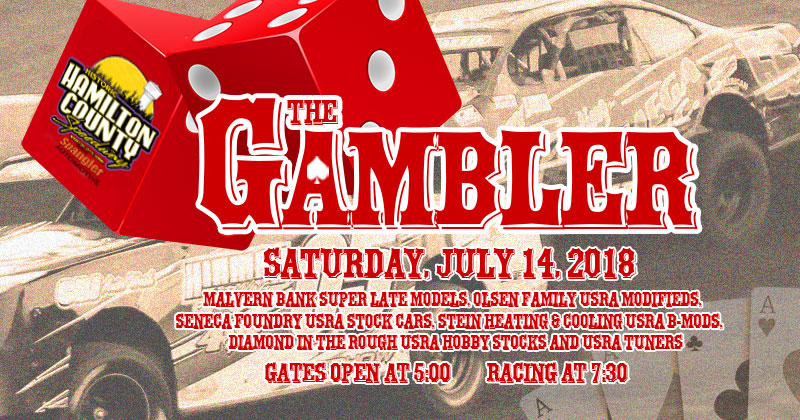 The Hamilton County Speedway driven by Spangler Automotive returns to action this Saturday, July 14, with the inaugural running of "The Gambler" featuring Malvern Bank Super Late Models, Olsen Family USRA Modifieds, Seneca Foundry USRA Stock Cars, Stein Heating & Cooling USRA B-Mods, Diamond in the Rough USRA Hobby Stocks and USRA Tuners.
Every driver in every division can be part of the fun (or not) and fans can get in on the action too. Drivers will have the opportunity to earn a lot of extra money—or maybe lose a little if they choose to "roll the dice."
There's a $30 entry fee for drivers who want to partake in the fun and games.
For starters, five drivers' names will be selected at random during the drivers meeting from a pool of those drivers that are entered in "The Gambler" festivities. Each driver that is selected will get an envelope filled with various amounts of cash and maybe some other goodies—all before ever turning a lap.
Heat races in all classes on Saturday will pay cash to the top three finishers if they are playing the game. After the checkers wave, each participating driver can take the cash or risk it all for a chance to double their money or head back to their pit empty-handed.
During our short intermission break, we will again draw three names from the pool of drivers that entered "The Gambler" and those three will each get an envelopes containing an amount from $20 to $500.
That's when the stakes go up.
Any driver that makes the redraw for the main event can exchange his or her starting spot with another driver behind those in the redraw, and gets a prize envelope for making the trade. If the driver making the trade starts 17th or worse he or she is guaranteed a $100 bonus to win the race. If he or she can get into the top 5, he or she gets to draw another envelope containing a prize. If the driver that got his or her starting spot taken away can win the race, he or she gets paid 1.5 times the published amount for winning (provided that driver took part in "The Gambler" program). If he or she can hold on for a top 8 finish, he or she gets to draw an envelope if finishing second through eighth.
Any driver that chooses not to pay the $30 entry fee and opts out of playing the game will race for the normal Saturday night purse (no heat race money) and will not draw any envelopes. The only effect on a non-player is that he or she could move up in starting position in the main event if a driver in the redraw trades for their spot.
At the end of the night two random drivers in each class will also get a chance to draw an envelope with a mystery amount of cash or prizes inside.
And finally, two drivers will get the chance to double their winnings on Saturday night after the main events. Two more drivers' names will be drawn at the end of the night with a chance to keep their winnings or only half of them, or walk away with double the money. This is why it's called "The Gambler."
One final thing: the Hamilton County Speedway drivers are "all in" this Saturday, which means that no matter how many cars show up in each class, all drivers will start the main event. Yep, that's right, if 50 Hobby Stocks show up then 50 Hobby Stocks could start the main event.
Oh, there's plenty of fun and games on tap for the fans too. Fans in the stands will also get to partake in several other games throughout the night, and two lucky fans with winning ticket numbers will get an envelope with some cash inside.
If Mother Nature decides to be a party pooper and the program is washed out, all bets are off and "The Gambler" will not be rescheduled.
Malvern Bank Super Late Models will pay $600 to win and $100 to start, Olsen Family USRA Modifieds pay $500 to win and $90 to start, Seneca Foundry USRA Stock Cars and Stein Heating & Cooling USRA B-Mods get $400 to win and $75 to start, Diamond in the Rough USRA Hobby Stocks earn $300 to win and $60 to start, and USRA Tuners race for $125 to win and $30 to start.
Gates open at 5 p.m., the drivers meeting is at 6:50, hot laps begin at 7:10 and racing gets underway at 7:30 p.m. Spectator admission is $12 for adults, juniors (12-16) are $8 and kids (11 & under) are free. Family Packs get two (2) adults and two (2) juniors in for $32 (save $8). Pit passes are $30, a youth (6-10) pit pass is $20 and pit passes are free for kids 5 and under.
The Hamilton County Speedway driven by Spangler Automotive is located off of US 20 at exit 140, then 1.2 miles north, then 0.5 mile east on Bank St., then 0.4 mile south on Bluff St. in Webster City, Iowa (1200 Bluff St, Webster City, IA 50595) at the historic Hamilton County Fairgrounds.
For more information, call (515) 832-6000 or check out www.HamiltonCoSpeedway.com. You can also get social on Facebook at www.facebook.com/RaceWebsterCity or Twitter at www.twitter.com/HamiltonCoSpeed (@HamiltonCoSpeed).
Opening in July 1910, the Hamilton County Speedway is the oldest speedway in the state of Iowa. In 1938, work began on the current location at the Hamilton County Fairgrounds. The semi-banked half-mile dirt track was completed in the spring of 1939, and the first races were held on the track in September of that year.
To learn more about the USRA, visit usraracing.com or call (515) 832-6000. You can also like USRA Racing on Facebook at facebook.com/usraracing, follow twitter.com/usraracing on Twitter and check out the USRA YouTube channel at youtube.com/usratv. Keep up to speed with everything USRA by joining our email list at usraracing.com/subscribe.
= = = = = = = = = = = = = = =
HAMILTON COUNTY SPEEDWAY MARKETING PARTNERS: American Family Insurance, Casey's General Store, D&B Agro-Systems, Daily Freeman-Journal, DCD Concrete Coating, Diamond in the Rough, Dinsdale Auto, Doolittle Oil, Farm Credit Services of America, First State Bank, Flower Cart, Foam Catz, Foster Funeral Home, Gilbert Flooring & Paint, Gilbert Jewelers, Good Life RV, Hamilton County Speedway Racing Association (HCSRA), Humes Distributing, Hy-Vee, Integrity Trucking, Iowa's Favorite Country K97, K.C. Nielson, KQWC Flight Q95, Lambert Lumber, Malvern Bank, Murphy Carpentry, NAPA Auto Parts, Olsen Family, Pepsi Beverages Co., Pizza Hut, Pruismann Painting, Ruba Lawn Care, Seneca Foundry, Spangler Automotive, Stein Heating & Cooling, Tolle Automotive , Tony's Tire, Town & Country Insurance, The Trash Man, Van Diest Medical Center, Wide Open Race Engines and Windsor Manor Assisted Living.