Sweet Home Webster City: Staleys bring new vision to Hamilton County Speedway in 2018
January 23, 2018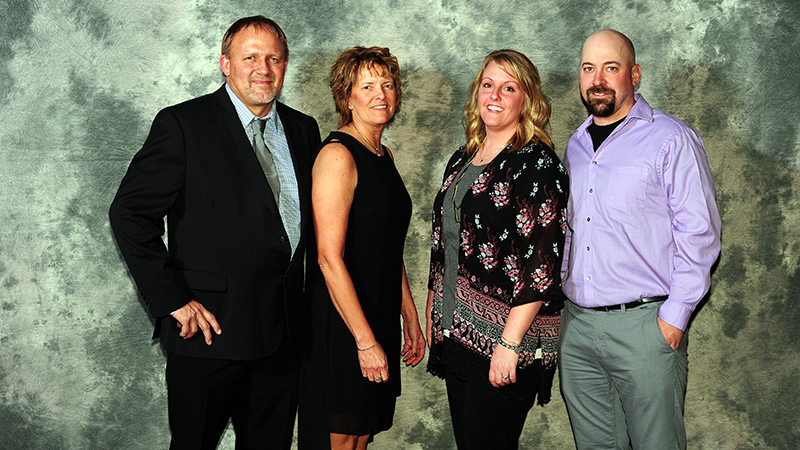 From left to right: Todd Staley, Janet Staley, Sarah Ratcliff and Brad Ratcliff.
The Hamilton County Fair in Webster City, Iowa, has inked an agreement with TTMM Promotions, LLC, of Webster City to operate weekly and special event promotions at the historic Hamilton County Speedway.
TTMM Promotions is operated by Todd and Janet Staley of Webster City. The Staleys have been involved with the Hamilton County Speedway since 1974 when Todd, who lived near by the track, worked the back of the water truck for promoter Don Cryder. Todd worked for several promoters throughout his life including John Allison, Butch Weber, Bill Rice and the late Howard Mellinger, doing everything from track maintenance to head flagman.
"Our number one goal is to facilitate great racing on a great racing surface, starting the shows on time and running a smooth and efficient program," Todd Staley said. "We will work to bring back the fun like it was in the glory days. In today's economy and culture, more than ever it is all about giving the paying customer an experience unlike every other, and that's what we intend to do."
Opening night for the 2018 season is scheduled for Saturday, April 21 with the regular season finale on Saturday, Aug. 25, before wrapping up the schedule with the return of the Fall Futurity on Friday and Saturday, Sept. 28-29.
As far as other marquee events, Saturday, May 12, will feature Modified Mania with a $3,000-to-win main event and special pricing and giveaways for kids. The inaugural Boone River Bayou, which was thwarted by weather in 2017, is slated to happen Tuesday and Wednesday, June 19-20, and will showcase Stock Cars, B-Mods, Hobby Stocks and Tuners.
What's more, the fire-breathing Modifieds in the USMTS Hunt for the Casey's Cup will be back on Tuesday, July 17, and the Lucas Oil ASCS 360 Sprint Car Series will make an appearance on Saturday, Aug. 18.
The complete 2018 schedule of events will be revealed in the next few days.
With this agreement, TTMM Promotions will take over the weekly racing event promotions of the Hamilton County Speedway and will partner with the Hamilton County Fair for five nights of events during the annual Hamilton County Fair, July 25-29.
In addition to a solid schedule of events, this season will feature one of the area's most generous weekly payouts for racers and a points fund awarding drivers at year's end that will reward them handsomely for their hard work throughout the season.
Webster City husband and wife Brad and Sarah Ratcliff will share the General Manager duties for the track, and will be in charge of the operations of the speedway for the weekly racing program.
For the drivers that put on the show each and every week, the new management team will make the transition as easy as possible for all racers that have raced at the Hamilton County Speedway in the past.
New this season, weekly racing will feature the popular and fast-growing SLMR Late Models. The rules for this class were developed by multi-time NASCAR national national champion and Dirt Late Model Hall-of-Famer Joe Kosiski and his staff.
"The rules package works great because all Late Models are welcome and extremely competitive no matter what kind of motor package is used, so all of the Late Models that have raced here will be able to race," Todd Staley added. "These are the same rules that will be utilized at several Eastern Iowa tracks in 2018, and have been in place at several tracks in Eastern Nebraska and Western Iowa for a few years now."
The Modifieds at the Hamilton County Speedway will be sanctioned by the USRA, but the rules package will be different from the USRA Modifieds that race at other facilities throughout America's heartland and be similar to those used at the Hamilton County Speedway in 2017. Any "open" USRA Modifieds will be required to add 50 pounds of weight for their aluminum heads and remove the spoiler. This will be the rules that will be run at Webster City for each year of the contract.
Holley USRA Stock Cars, Out-Pace USRA B-Mods and USRA Hobby Stocks will run with the 2017 classes welcome to race with no changes.
If a Stock Car driver wants to run the USRA rules, the only significant change is the 4-barrel carburetor with the small engine and the Holley 500 carburetor with the larger engine—those are both options. Everything else will be the same with minor changes.
In the B-Mod division, drivers that raced at the Hamilton County Speedway will not have to change anything. If you raced in Webster City last season, you are 100% legal to come as you are. Same goes for the Hobby Stocks.
A new class that will run weekly at the Hamilton County Speedway will be the USRA Tuners—a beginner class that is built for fun and allows new faces to get involved in dirt track racing. Sometimes called Sport Compacts or Hornets, this four-banger division will also be sanctioned under the USRA banner with track and national points funds for racers.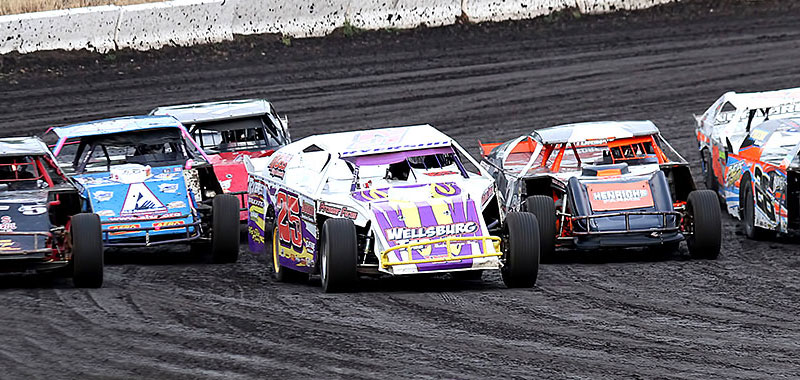 Perhaps the most welcome change for racers at the Hamilton County Speedway is a bigger and better weekly payout for all classes and a hearty guaranteed year-end points funds.
Late Models will pay $600 to win and $100 to start every Saturday night. Modifieds will pay $500 to win and $90 to start. Stock Cars and B-Mods will get $400 to win and $75 to start while Hobby Stocks are $300 to win and $60 to start. Tuners will race for #125 to win and $30 to start.
The year-end points fund will see both the Late Model and Modified track champions take home $1,500 with no less than $150 going to drivers finishing among the top ten. Stock Cars and B-Mods will pay $1,000 to win the track title and $125 for tenth. The Hobby Stock champ will pocket $700 with $110 for tenth, and the Tuner track champion will earn $200 with $75 for the driver finishing tenth in the final standings.
These are just track points funds and don't include possible regional and national points fund money drivers may earn in the Summit Racing Equipment USRA Weekly Racing Series.
"There is a special place in our heart for the Hamilton County Speedway," Todd Staley said. "We know we have a lot of work to do going forward with regards to both facility improvements and proving to fans and drivers that you don't have to settle for what you've gotten in the past."
In 1999 Todd and his wife, Janet, acquired the United States Modified Series (USMS) and changed the name to United States Modified Touring Series (USMTS). They had their share of new business struggles, but with the help of sponsors, great drivers and fans, the USMTS is considered the pinnacle of dirt modified racing in the country today. The USMTS will be celebrating its 20th Anniversary season in 2018 with a great season planned and a whopping $50,000 up for grabs for the national champion of the 43-race schedule.
Todd and Janet have also owned and operated the United States Racing Association (USRA) since 2002. The USRA sanctions weekly racing at nearly fifty premier dirt tracks throughout the United States, and offers competitors a set of smart rules with some of the best year-end and national points funds in the sport.
The Hamilton County Speedway is the oldest speedway in the state of Iowa, opening in July 1910. In 1938, work began on the current location at the Hamilton County Fairgrounds. The semi-banked half-mile dirt track was completed in the spring of 1939, and the first races were held on the track in September of that year.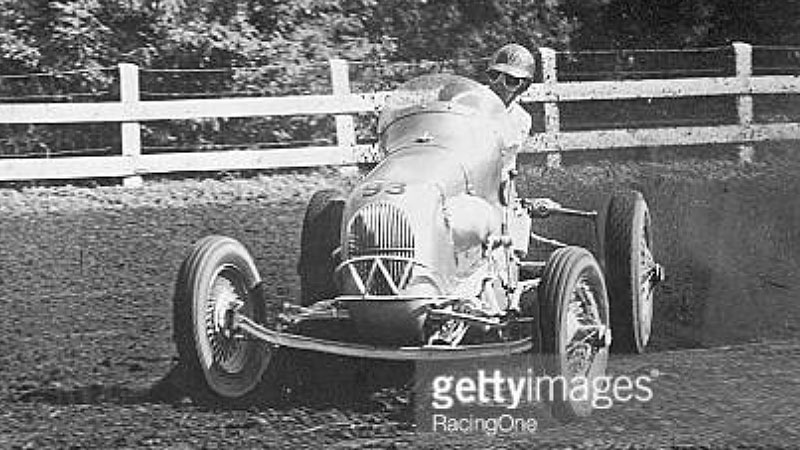 California's Jimmy Wilburn guides his Sprint Car through a corner at the Hamilton County Speedway in 1948. Opening in 1910, the race track is the oldest in the state of Iowa.
The track is located off of US 20 at exit 140, then 1.2 miles north, then 0.5 mile east on Bank St., then 0.4 mile south on Bluff St. If you are interested in marketing partnerships or working at the speedway, email
hamiltoncountyspeedway@gmail.com
, call (515) 832-6000 or check out
www.hamiltoncospeedway.com
..
To learn more about the USRA, visit
www.usraracing.com
or call (515) 832-6000. You can also like USRA Racing on Facebook at
www.facebook.com/usraracing
, follow
www.twitter.com/usraracing
on Twitter and check out the USRA YouTube channel at
www.youtube.com/usratv
. Keep up to speed with everything USRA by joining our email list at
www.usraracing.com/subscribe
.
= = = = = = = = = = = = = = =
USRA OFFICIAL SPONSORS: American Racer Racing Tires, Argo Manufacturing, Chevrolet Performance, CP-Carrillo, Fast Shafts, Intercomp, KSE Racing Products, Medieval Chassis, Mesilla Valley Transportation, Pace Performance, RacerWebsite.com, RacinDirt.com, Summit Racing Equipment, The Joie of Seating.
USRA PARTICIPATING SPONSORS: ASi Racewear, Boubin Tire & Automotive, Brodix Cylinder Heads, ElbowsUp.com, YouDirt.com.
USRA CONTINGENCY SPONSORS: AFCO Racing Products, Allstar Performance, Beyea Custom Headers, Day Motor Sports, Edelbrock, Forty9 Designs, Genesis Racing Shocks, Holley Performance, Integra Shocks & Springs, Keyser Manufacturing, Out-Pace Racing Products, QA1, Real Racing Wheels, Sybesma Graphics, Wehrs Machine & Racing Products.
USRA MEMBER TRACKS: Alien Motor Speedway, Aztec Speedway, Caney Valley Speedway, Chateau Raceway, Cresco Speedway, Deer Creek Speedway, Devil's Bowl Speedway, Fayette County Speedway, Flint Creek Speedway, Hamilton County Speedway, I-35 Speedway, Lake Ozark Speedway, Lakeside Speedway, Lawton Speedway, Legit Speedway Park, Lucas Oil Speedway, Mason City Motor Speedway, Midway Speedway, Mississippi Thunder Speedway, Missouri State Fair Speedway, Monett Speedway, Nobles County Speedway, Rapid Speedway, RPM Speedway, Route 66 Motor Speedway, Sioux Speedway, Southern New Mexico Speedway, Southern Oklahoma Speedway, Springfield Raceway, Tri-State Speedway, Upper Iowa Speedway, Vado Speedway Park, Valley Speedway, West Texas Speedway.