The Hamilton County Speedway has the best payouts in the region, and we're reaching out to Racers to help us put more fans in the stands and more money in your pocket through the Winners Circle Racer Rewards program.
We're offering an early bird punch pass for Fans with a deep discount.
Each punch pass costs $120 and is good for 10 nights of racing, but each punch has a $15 value and can be used at any race at the Hamilton County Speedway in 2021.
For instance, if a Fan attends an event and the ticket price is $20, he or she can simply upgrade at the ticket booth for an extra $5.
Any Racer that has raced or plans to race at the Hamilton County Speedway can be a part of the Winners Circle Racer Rewards program.
We're looking for 40 Racers that can sell 10 punch passes each.
GET REWARDED FOR SELLING PUNCH PASSES
In addition to saving your family and friends money throughout the 2021 racing season, we're rewarding the top three sellers if all Racers combined sell 200 or more punch passes by 5 p.m. on Friday, December 18:
1st Place $500
2nd Place $300
3rd Place $200
The same progam is also being offered for Racers at the Hamilton County Speedway in Webster City. If all Racers sell 500 or more punch passes overall between the two tracks between now and when the contest ends December 18, the one who sells the most will win a FREE trip for two to Las Vegas which includes flights and lodging.
Get yourself into the Winners Circle and call us today at (515) 832-6000.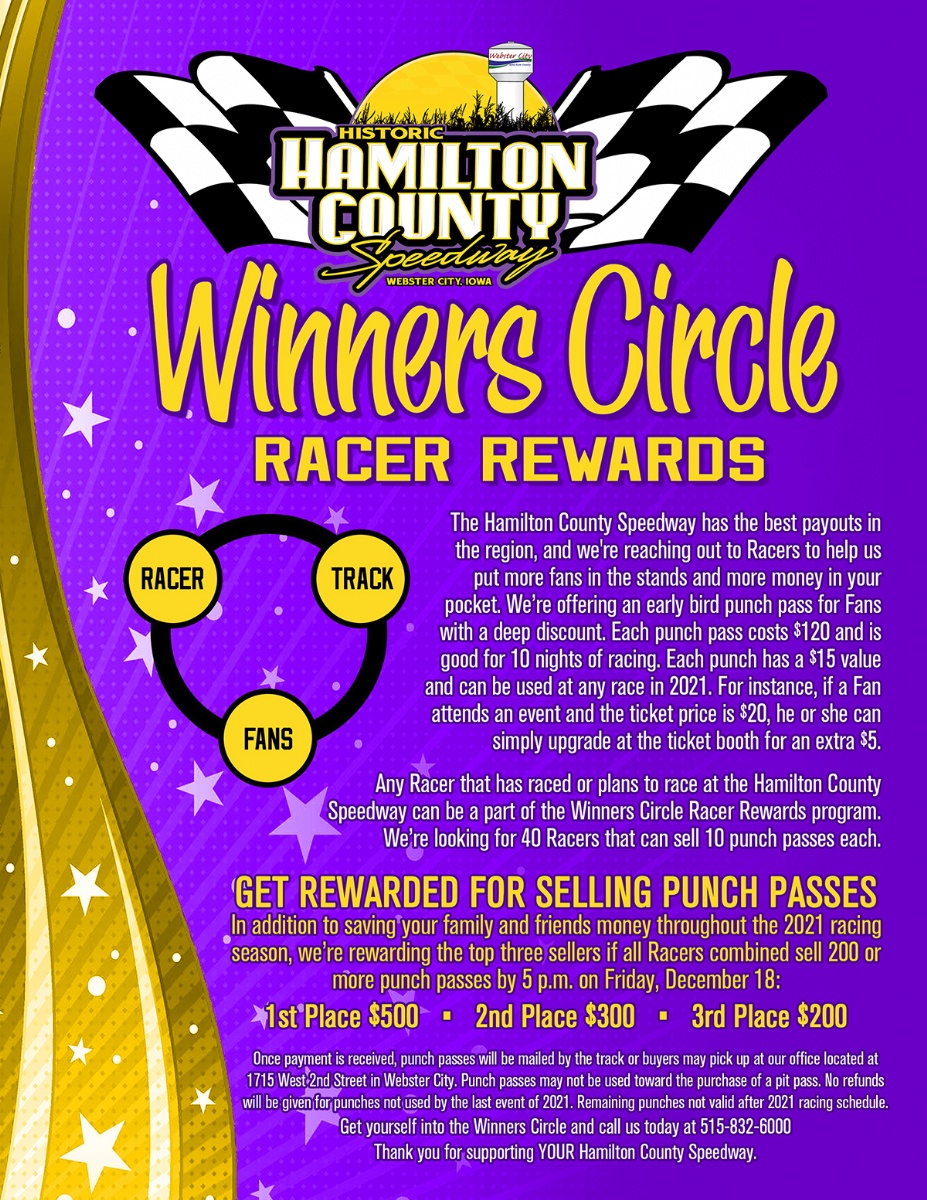 The Hamilton County Speedway is located off US 20 at exit 140, then 1.2 miles north, then 0.5 mile east on Bank St., then 0.4 mile south on Bluff St. to the Hamilton County Fairgrounds in Webster City, Iowa. The physical address is 1200 Bluff St, Webster City, IA 50595.
Opening in July 1910, the Hamilton County Speedway is the oldest speedway in the state of Iowa. In 1938, work began on the current location at the Hamilton County Fairgrounds and was completed in the spring of 1939 with the first races held in September of that year.
The AmericInn by Wyndham is the Official Host Hotel of the Hamilton County Speedway. Located just off the exit from Highway 20 at 411 Closz Drive, check them out online or call (515) 337-2611 to book your stay.
For more information, call (515) 832-6000 or check out hamiltoncospeedway.com. You can also get social on Facebook and Twitter.
To learn more about the United States Racing Association, visit USRAracing.com. You can also like us on Facebook, visit us on Instagram, follow us on Twitter and watch us on YouTube. Keep up to speed with everything USRA and subscribe to the USRA e-Newsletter at USRAracing.com/subscribe.
= = = = = = = = = = = = = = =
HAMILTON COUNTY SPEEDWAY MARKETING PARTNERS: American Family Insurance, American Racer Racing Tires, Availa Bank, Casey's, D&B Agro-Systems, DCD Concrete Coatings, Diamond in the Rough, Dinsdale Motors, Farm Credit Services of America, Foster Funeral & Cremation, Gilbert Flooring & Paint, Gilbert Jewelers, Good Life RV, Humes Distributing, Hy-Vee, Integrity Trucking, Jerry Goebel State Farm Agent, Jones Rock & Dirt, K.C. Nielsen Ltd., KS Engineering, Lampert Lumber, Malvern Bank, McDonald's, Murphy Carpentry, MyRacePass, NAPA Auto Parts, Nitroquest Media, People's Credit Union, Pepsi Beverages, Pizza Hut, POET Biorefining of Jewell, RacerWebsite.com, RacinDirt.com, Seneca Foundry, Spangler Automotive, Stein Heating & Cooling, Tex Trail Trailer Parts, Tolle Automotive, Summit Racing Equipment, WCF Financial Bank, Windsor Manor Assisted Living, YouDirt.com.