Baker Trucking pads purse, picks up tab for Hamilton County Speedway racers this Saturday
June 20, 2018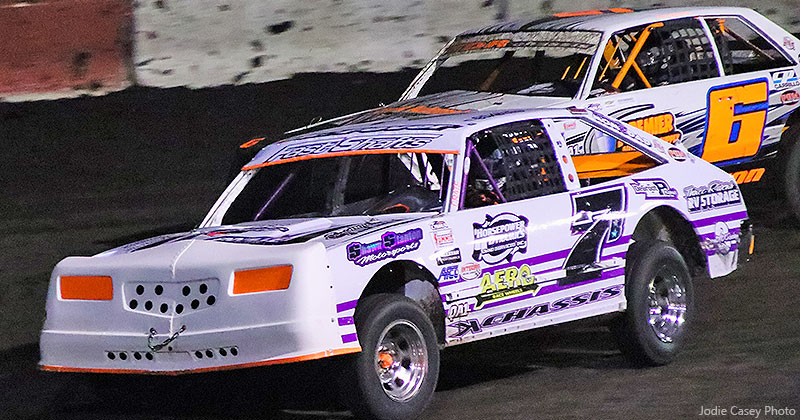 The Hamilton County Speedway driven by Spangler Automotive returns to action this Saturday, June 23, with some free pit passes, additional take-home pay and other bonuses for competitors courtesy of Baker Trucking in Webster City, Iowa.
"Mike and Kathy Baker have been supporters of the Hamilton County Speedway for many, many years," said track promoter and lifetime Webster City resident Todd Staley. "They have been one hundred percent behind our efforts here to return the Hamilton County Speedway to it's glory days, and they want to see some new faces and drivers come here to see for themselves all of the improvements to the racing surface and facilities."
The Bakers will be picking up the tab and buying the pit pass for the first 30 new drivers that race at the Hamilton County Speedway this Saturday, June 23, for the first time this season. You read that right… the first 30 new drivers get into the pits for free, so get there early.
For those racers that have been supporting the track already, three Casey's General Stores gift cards valued at $50 each will be awarded at the drivers meeting to three competitors in any class that were in attendance this past Saturday, June 16.
We're not done yet.
In addition to the aforementioned perks, the Bakers will take care of the USRA temp license fee for any non-licensed drivers, and the transponder rental, if needed, is completely free for all drivers in all classes this Saturday night.
But wait, there's more!
On top of everything they've already committed to, the Bakers are adding cold, hard cash to the Diamond in the Rough USRA Hobby Stock feature. This Saturday, June 23, the top ten finishers will take home $400, $300, $250, $195, $165, $130, $120, $110, $100 and $105, respectively, for first through tenth.
"Myself, along with my wife Janet and our track management team of Brad and Sarah Ratcliff, would like to thank the Bakers for their support and encouragement while we rebuild this great speedway," Todd Staley added. "We thank them for stepping up to help out the drivers and helping us make Hamilton County Speedway great again."
This Saturday's program, presented by Spangler Automotive, will be Round 6 of the Summit USRA Weekly Racing Series featuring Malvern Bank Super Late Models, Olsen Family USRA Modifieds, Seneca Foundry USRA Stock Cars, Stein Heating & Cooling USRA B-Mods, Diamond in the Rough USRA Hobby Stocks and USRA Tuners plus the return of the DTRA Dirt Truck Series.
Gates open at 5 p.m., the drivers meeting is at 6:50, hot laps begin at 7:10 and racing gets underway at 7:30 p.m. Spectator admission is $12 for adults, juniors (12-16) are $8 and kids (11 & under) get in for free. A Family Pack for two (2) adults and two (2) juniors is just $32 (save $8). Pit passes are $30 with youth (6-10) $20 and kids (5 & under) free.
Priceless Purses & Points Funds: Better than anywhere else in the region, competitors at the Hamilton County Speedway are racing for a bigger and better weekly payout in all classes, as well as a hearty guaranteed year-end points fund. Malvern Bank Super Late Models will pay $600 to win and $100 to start every Saturday night. Olsen Family USRA Modifieds will pay $500 to win and $90 to start. Seneca Foundry USRA Stock Cars and Stein Heating & Cooling USRA B-Mods will get $400 to win and $75 to start. Diamond in the Rough USRA Hobby Stocks earn $300 to win and $60 to start, and USRA Tuners race for $125 to win and $30 to start every Saturday night.
The year-end points fund will see both the Late Model and Modified track champions take home $1,500 with no less than $150 going to drivers finishing among the top ten. Stock Cars and B-Mods will pay $1,000 to win the track title and $125 for tenth. The Hobby Stock champ will pocket $700 with $110 for tenth, and the Tuner track champion will earn $200 with $75 for the driver finishing tenth in the final standings. These are just track points funds on top of regional and national cash and contingency awards that drivers can earn in the Summit USRA Weekly Racing Series.
Making Hamilton County Speedway Great Again: While many projects are complete, many are ongoing at the famed half-mile facility. Widening of back-stretch, new dirt from the back side of the corners, a completely remodeled VIP booth with a new furnace, air conditioning system and new flooring with countertops and tables set up to accommodate up to 40 people, bathrooms renovated with new flooring and paint, and a new 16 x 30-foot party deck to the southwest of the VIP booth that will provide awesome views are just some of the upgrades that are finished or underway.
A full-time waitress will be working both the VIP booth and party deck area for the sponsors that have rented those… Crews have cleaned the area near the entrance along the fence and where the smoking area is located, and the ground is being leveled so that fans will be able to walk with much more ease… Touch-screen computers at all stations including the ticket booth, pit shack, concession stands and beer stand with portals that accept credit cards at every station... The concessions menu features great quality food from Hy-Vee, Fareway and Mary's Ann Deli each and every night, and all sandwiches will be fresh (not frozen) meat. Steak sandwiches, hamburgers, cheeseburgers, bacon cheddar burgers, chicken sandwiches, pork tenderloins and skinless brats are just a few of the items that will make fans want to come to the races on an empty stomach.
Opening in July 1910, the Hamilton County Speedway is the oldest speedway in the state of Iowa. In 1938, work began on the current location at the Hamilton County Fairgrounds. The semi-banked half-mile dirt track was completed in the spring of 1939, and the first races were held on the track in September of that year.
The Hamilton County Speedway driven by Spangler Automotive is located off of US 20 at exit 140, then 1.2 miles north, then 0.5 mile east on Bank St., then 0.4 mile south on Bluff St. in Webster City, Iowa (1200 Bluff St, Webster City, IA 50595) at the historic Hamilton County Fairgrounds.
For more information, call (515) 832-6000 or check out www.HamiltonCoSpeedway.com. You can also get social on Facebook at www.facebook.com/RaceWebsterCity or Twitter at www.twitter.com/HamiltonCoSpeed (@HamiltonCoSpeed).
To learn more about the USRA, visit www.usraracing.com or call (515) 832-6000. You can also like USRA Racing on Facebook at www.facebook.com/usraracing, follow www.twitter.com/usraracing on Twitter and check out the USRA YouTube channel at www.youtube.com/usratv. Keep up to speed with everything USRA by joining our email list at www.usraracing.com/subscribe.
= = = = = = = = = = = = = = =
HAMILTON COUNTY SPEEDWAY MARKETING PARTNERS: American Family Insurance, Casey's General Store, D&B Agro-Systems, Daily Freeman-Journal, DCD Concrete Coating, Diamond in the Rough, Dinsdale Auto, Doolittle Oil, Farm Credit Services of America, First State Bank, Flower Cart, Foam Catz, Foster Funeral Home, Gilbert Flooring & Paint, Gilbert Jewelers, Good Life RV, Hamilton County Speedway Racing Association (HCSRA), Humes Distributing, Hy-Vee, Integrity Trucking, Iowa's Favorite Country K97, K.C. Nielson, KQWC Flight Q95, Lambert Lumber, Malvern Bank, Murphy Carpentry, NAPA Auto Parts, Olsen Family, Pepsi Beverages Co., Pizza Hut, Pruismann Painting, Ruba Lawn Care, Seneca Foundry, Spangler Automotive, Stein Heating & Cooling, Tolle Automotive , Tony's Tire, Town & Country Insurance, The Trash Man, Van Diest Medical Center, Wide Open Race Engines and Windsor Manor Assisted Living.